Hello Investors,
Our mission here at EquityZen is to open up private markets for the public. In doing so, clients at EquityZen have the opportunity to benefit from IPOs and other company exits in ways that have not been possible before. To that end, we are introducing a new index to track the performance of VC-backed companies since 2014. The index will be updated and freely available on our website starting next year for all EquityZen clients.
Key index stats/return profile:
Equally-weighted index of 107 formerly VC-backed companies (as of 12/19/2017). Our index starts the beginning of 2014; we add subsequent VC-backed IPOs upon their respective offering dates at their respective IPO prices.

134% return since inception (beginning of 2014) vs. 63% for the NASDAQ-100 Equal-Weighted Index and 42% for the S&P 500 Equal-Weighted Index

1.44% standard deviation of returns (vs. 0.92% for the NASDAQ-100 EW and 0.80% for the S&P 500 EW)

66% correlation to S&P 500 EW returns, 73% correlation with NASDAQ-100 EW returns
Note that a key limitation of our index is the low number of companies at inception (18). Thus, an individual company return has a disproportionate impact on returns in early years of the index. By contrast, the S&P 500 and NASDAQ-100 always have a fixed number of constituent companies.
EZ VC-Backed Company Index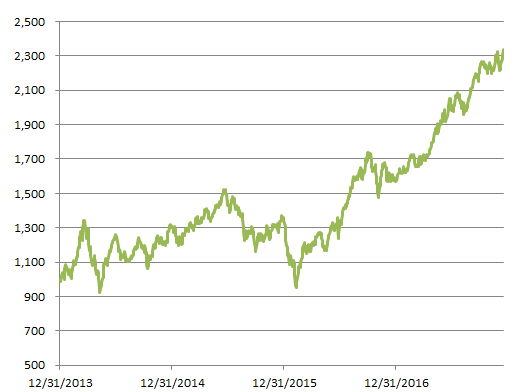 Source: YCharts, EquityZen Estimates
EZ VC-Backed Company Index vs. S&P 500 Equal-Weighted Index (IPX), NASDAQ-100 Equal-Weighted Index (NA100EW) [Indexed Values]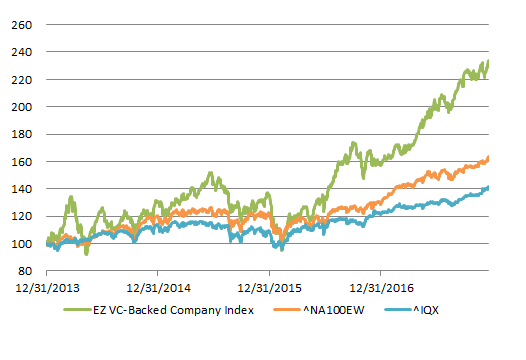 Source: YCharts, EquityZen Estimates
Thanks,
Phil Haslett
Founder + Head of Investments, EquityZen