Hello Investors,
Following our IPO outlook last week, we turn to a less pleasant topic -- IPO "down rounds". In venture capital, down rounds occur when a round of financing is completed at a lower valuation than the prior round. Similarly, in the case of IPOs, a down round means the initial public valuation is less than implied from the last private funding round.
IPO down rounds have been on the up. As noted in our blog post last May, IPO down rounds have increased over recent years to the highest levels since the economic recovery began. In 2015 and 2016, almost one-third of all TMT companies (Technology, Media & Telecom) IPO'ed at lower valuations than in their last private funding rounds. 2017 trends are better (though still elevated) with around 21% of IPOs meeting the unwelcome down round distinction including MongoDB, Tintri, Blue Apron, and Cloudera. Crunchbase provides a full list of down exits (which includes acquisition exits) here.
Down Round IPOs by Year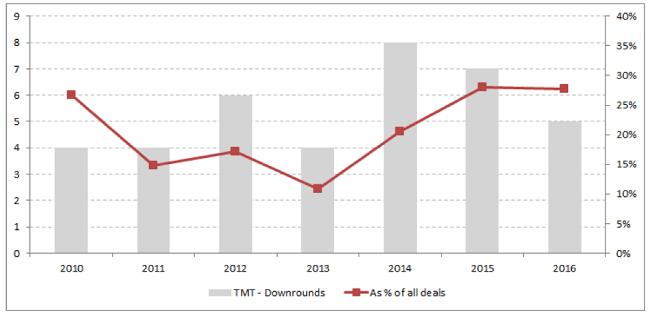 Source: Crunchbase, EquityZen Estimates
Is 2014/15 venture ebullience to blame? In our view, past overheating in the private markets has been a key contributor to the recent public valuation malaise for VC-backed companies. Notably, over 60% of VC-backed IPOs we have tracked since 2015 last raised private money in either 2014 or 2015 -- two of the most buoyant years on record for late stage VC investing according to TrueBridge Capital Partners. Average investment volume more than doubled over this period, which pushed implied valuations higher. Notable highlights from '14/15 deal-making include:
Four super-mega rounds ($1B+) including SpaceX, AIrbnb, SoFi and Uber

Slack, which surpassed a $1B+ valuation in less than a year

Over 50 new unicorns crowned -- the most in recent history
2015-17 VC-Backed IPO Funding Profile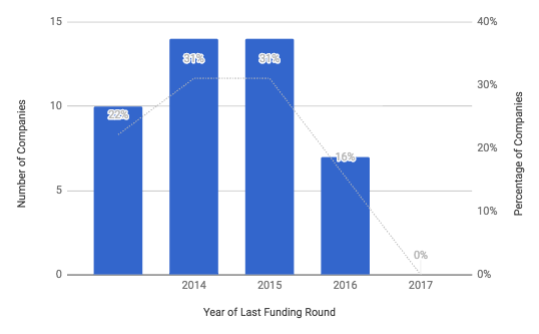 Source: Crunchbase, EquityZen Estimates
TrueBridge State of the Venture Industry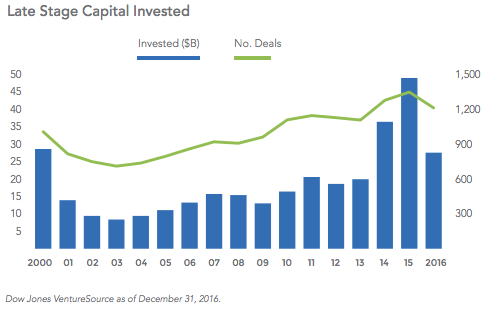 Fewer negative marks on the horizon, but caution warranted near-term. The key question for many of our investors is what future IPO valuations might look like. With our office crystal ball currently out of commission from trying to figure out cryptocurrency, we won't attempt a full answer to that question here. In a constructive signal for potential IPO valuations, though, it does appear that many of the potential negative valuation marks among late stage companies have been flushed out already through a combination of past IPOs, M&A and subsequent private funding rounds. Using data from Crunchbase, we estimate that around 20% of all current late stage companies raised their last funding rounds in 2014/2015 -- far less than the 60% mentioned above for 2015-2017 tech IPO vintages. Nevertheless, caution may be warranted near-term. Indeed, with 25% of those late stage companies we view as likely candidates for 2018 IPOs belonging to the 2015 venture funding cohort, we believe we haven't seen the last of the IPO down rounds yet.
Currently Late Stage Venture Companies - Funding Profile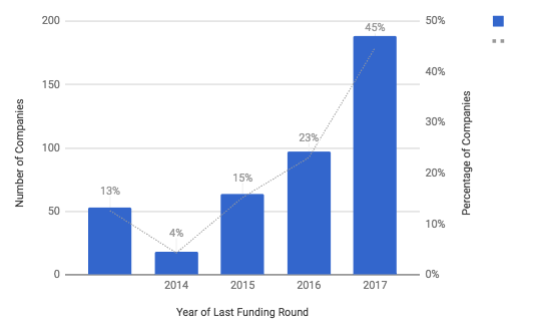 Source: Crunchbase, EquityZen Estimates
EZ 2018 IPO Predictions - Funding Profile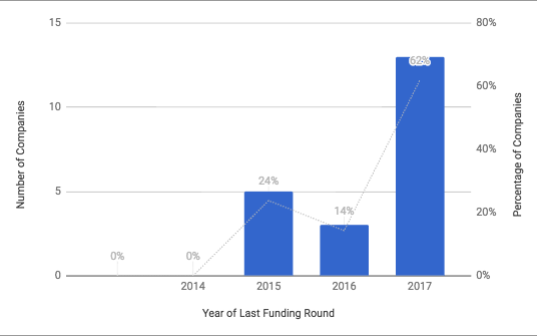 Source: Crunchbase, EquityZen Estimates
Thanks,
Phil Haslett
Founder + Head of Investments, EquityZen