Hello Investors,
With 2017 almost in the books, we take a quick look at several key market trends relevant for pre-IPO companies from the past year. Stay tuned for our 2018 IPO outlook (coming soon).
Tech sector on a tear this year. NASDAQ 100 returned ~30% so far in 2017 vs. ~18% for the S&P 500. The S&P Software & Services similarly outperformed, up ~35%. The strong tech results in 2017 follow a year of modest underperformance in 2016.
Tech Stock Performance vs. S&P 500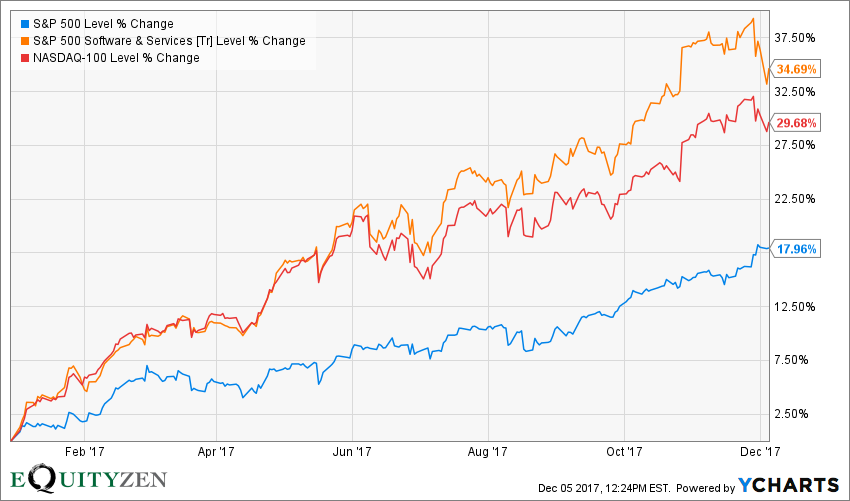 Source: YCharts
Multiple expansion has been a key driver for technology shares. Re-rating has accounted for a meaningful portion of technology share performance for the year. EV/revenue multiples for top software index components as well as other large cap tech names (AAPL, GOOG, NFLX, FB and AMZN) have expanded ~25% YTD, on average.
Tech EV/revenue Multiples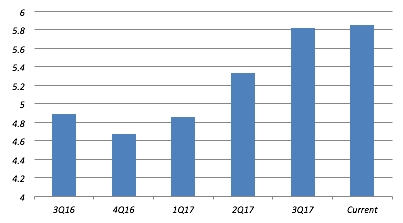 Source: YCharts
Tech IPO activity up...With the favorable market backdrop, 2017 has seen around double the number of tech IPOs so far versus 2016. Activity remains subdued, though, relative to prior years.
Number of Tech IPOs by Year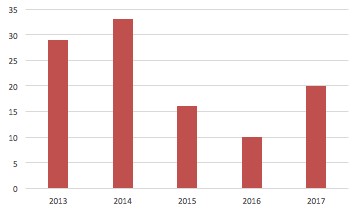 Source: EquityZen Estimates
...but performance mixed bag. We track 20 tech stocks that IPO'ed over the past year. Performance has been mixed, with this group delivering ~10% returns on average YTD (please note that return is as of first close, not from IPO price). CVNA, ROKU, VERI SFIX and APPN have outperformed meaningfully. APRN, SNAP, HAIR and TNTR are notable laggards.
YTD IPO Stock Total Returns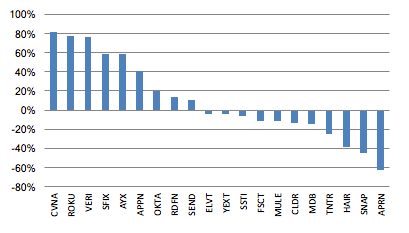 Source: Ycharts
Thanks,
Phil Haslett
Founder + Head of Investments, EquityZen