Hello Investors,
On Borrowed Time: A quick guide to Venture Debt
Venture debt has become an integral part of the capital menu for startups. While equity financing continues to dominate overall, late stage startups have increased their use of debt in recent years.
Financing Sources - Late Stage Startups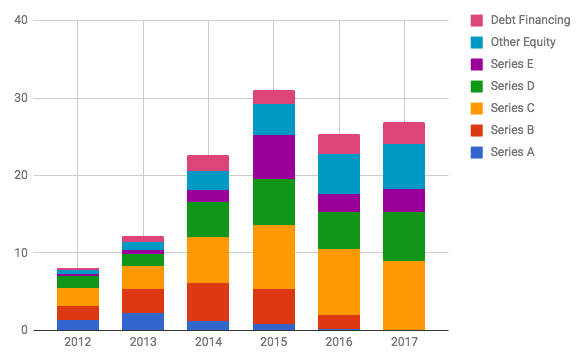 Source: Crunchbase
What is venture debt?
Venture debt is typically structured as a senior secured term loan (1-5 years is most common). Lenders will typically demand warrants for company stock as well to compensate for risk. Loans are commonly collateralized by the underlying assets of the company (intellectual property is excluded in some cases). Terms will vary from loan to loan, but financial covenants are typically limited and default is often simply defined as failure to pay on time. Yields generally range from 10-15% and can include end of term payments and/or paid-in-kind (PIK) interest.
Banks and venture debt funds are the most active venture lenders in the market. Because of their (relatively) low cost of capital, banks can offer more favorable interest rates. As regulated entities, however, they will often impose more covenants or default provisions. Prominent lenders include Silicon Valley Bank, City National Bank, Comerica, Hercules, Horizon, Lighthouse, MMVF, NXT, ORIX, Gold Hill, Escalate and Eastward.
Why use venture debt?
Venture debt can complement a startup's equity financing and offers several advantages over traditional equity financing:
Debt financing is less costly and typically results in less dilution

Debt rounds can often be closed more quickly

Debt can extend a startup's cash runway, allowing company to achieve milestones or accumulate more data on underlying business trends before asking for more equity
Of course, debt also saddles these companies with mandatory interest payments, which is not suitable for all startups.
Who uses venture debt?
Several blue-chip startup names (and former startup names) have used debt financing historically including Airbnb, Uber, Spotify, Facebook and Palantir. Borrowers tend to be later stage companies. Lending terms are typically not disclosed publicly; however, some publicly traded venture lenders will provide select information on current investments. We provide select data from Hercules Capital (NYSE: HTGC) below.
Hercules Capital venture lending portfolio

Source: Company filings
Can venture debt tell us anything about a startup's business?
Similar to equity investors, debt investors want to achieve adequate compensation for the risk that they are taking on their investment. A lender will have access to similar information as an equity investor when making this assessment and negotiating terms. Some insights that debt round can provide:
Similar to equity rounds, stronger companies will have more leverage at the negotiating table with lenders. All else equal, higher loan amounts relative to company size, longer terms and lower interest rates (and other costs) are available to companies that debt underwriter's perceive as carrying less risk.

A debt round for venture companies

may

be a positive signal. In particular, it may suggest the absence of qualities that would make debt financing unavailable or extremely costly -- e.g. an extremely weak cash position or a startup on its last legs.

Debt is

less likely

to be used by startups with very stable revenue streams. In this case, a line of credit is typically a cheaper option to bridge between equity rounds.

Debt costs can provide some insight to a company's cost structure. A typical rule of thumb states that interest payments should generally

not exceed 20% of the startup's

overall operating expenses.