Two more start-ups -- Stitch Fix and SendGrid -- took their first steps towards making public debuts, filing their S-1s in mid-October. If completed, the offerings would join 22 other venture-backed IPOs YTD and would put 2017 slightly ahead of 2016 on number of IPOs.
Venture-backed IPOs by year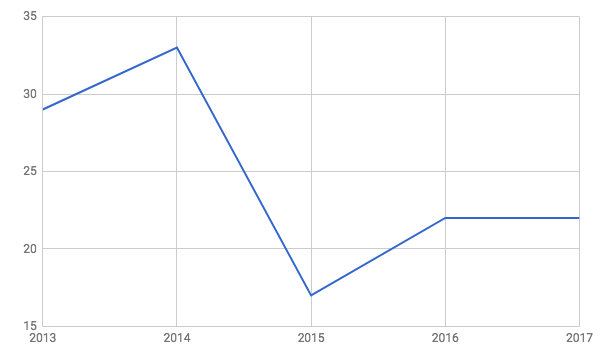 Source: Crunchbase
Some key takeaways from our review of the filings are included below.
Stich Fix
Stitch Fix is an e-commerce company, which delivers curated boxes of clothing/accessories which their clients can then elect to purchase or return (a "Fix"). The company uses data science as well as a team of (human) stylists to select items for each Fix.
Stitch Fix aims to list on the NASDAQ under the ticker "SFIX". Pricing range TBA. The company was last valued at $321M (in 2014).
The most salient observation from Stitch Fix's S-1 is that it doesn't look like a typical venture-backed IPO at all. (1) The company is generating positive operating cash flow, including ~$39M in 2017 and ~$45M last year. (2) It has been remarkably efficient -- building to $977M of revenue since its founding just six years ago (2011) while raising only $42.5M from outside investors over this period. And (3) the startup didn't use Morgan Stanley as a lead bookrunner.
The first two items above are notable positives and should be received well by investors, in our view. The S-1 is, however, somewhat light on disclosures, which may detract in a holistic assessment of the offering. Further data on underlying business metrics, in particular, would help in gauging the health of revenue drivers and the prospects for Stitch Fix's business going forward.
Key Metrics from S-1:
Revenue has been robust, with solid growth. Stitch Fix's revenue has been robust, totaling $977M over the past four quarters. Growth has slowed, but remains strong at 25% YOY over the past two quarters.
Stitch Fix Revenue Growth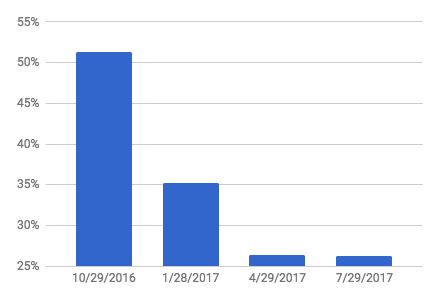 Source: Company filings
Cohort analysis suggests waning organic growth over time. Stitch Fix appears to capture a large portion of customer spend during the initial term of the relationship. According to the data provided (which only covers three years), marginal spend decreases as the tenure of each cohort increases on the platform. On a positive note, the company noted that the average number of items purchased across all customers (both new and existing) has increased 22% since 2014. While a history of positive operating cash flow is an encouraging sign for the business, more information on marketing spend, retention rates and customer acquisition costs would be helpful in assessing the underlying health of Stitch Fix's economics.
Stitch Fix Cohort Analysis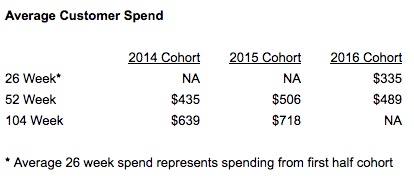 Source: Company filings
Operating margins softer. Operating margins are positive, but have narrowed meaningfully in recent quarters. The decline appears to be attributable to higher G&A. Gross margins have also contracted somewhat sequentially.
Stitch Fix Operating Margins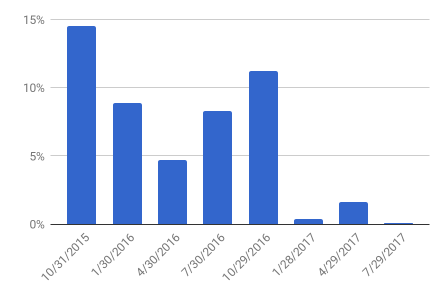 Source: Company filings
Stitch Fix Gross Margins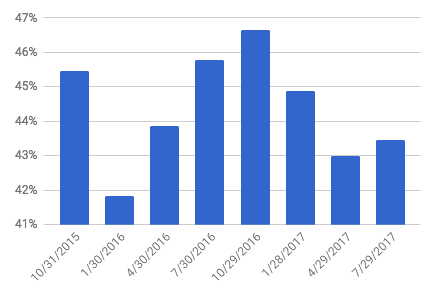 Source: Company filings


SendGrid
SendGrid is a digital communications platform that aims to help businesses optimize client email communications. SendGrid plans to list on the NYSE under the ticker "SEND". Pricing range TBA. The company was last valued at $707M (in 2016).
Overall, the company's metrics look healthy. Like many other emerging tech companies, SendGrid is not profitable currently. Notably, though, losses have been narrowing while revenue growth has picked up -- a combination that investors should welcome. Further, while SendGrid's customer count has continued to climb, the business appears to drive a significant portion of its growth organically, which often carries more favorable economics vs newly acquired customers.
Key Metrics from S-1:
Revenue growth strong and has increased in recent quarters. SendGrid has averaged 40% Y/Y revenue growth over the past six quarters, bolstered by accelerated growth over the past three quarters.
SendGrid Revenue Growth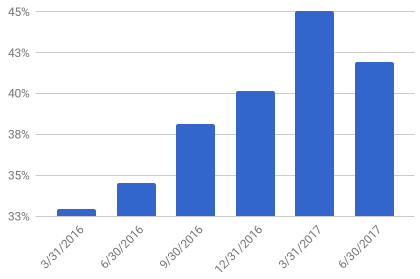 Source: Company filings
SendGrid continues to generate losses, though these are narrowing. SendGrid's operating margins remain in negative territory (with the exception of a small profit in 3Q16). Profitability has been trending in the right direction, though, with losses narrowing to single-digit ranges on revenue over the last three quarters. SendGrid employs a self-service model where customers do not engage with an enterprise salesforce -- a factor that likely boosts operating margins.
SendGrid Operating Margins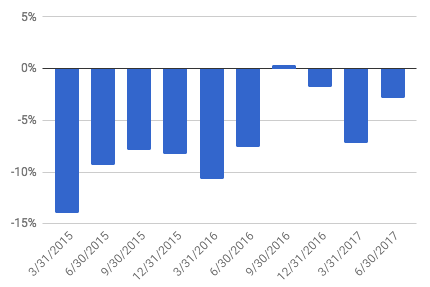 Source: Company filings
Underlying business drivers robust. Two key measures of SendGrid's underlying demand -- customer count and email volume, continue to climb at strong levels. Note in chart below, customer count is in thousands and email volume is in billions.

Source: Company filings
Encouragingly, the company's cohort analysis suggests much of the company's growth has been organic. The company's 2012 cohort, for example, spent $15M on the platform in 2016 vs. $5M in their first year, representing ~34% annualized growth. SendGrid has also posted strong retention rates, exceeding 110% since 2014.
SendGrid Cohort Analysis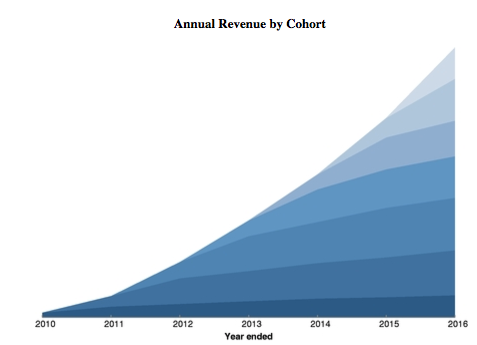 Source: Company filings
In other news...