Hello Investors,
Today's blurb comes from Catherine Klinchuch, EquityZen's Finance & Research Lead
More Mongo Musings
This morning, MongoDB (MDB) announced an increase in its expected IPO pricing range to $20-22, from $18-20. The new pricing range suggests a valuation of $1.3-1.5B. By comparison, the company's last private funding round was at $33.44/sh (adjusted for splits).
Chart 1: MDB pricing range and implied market capitalization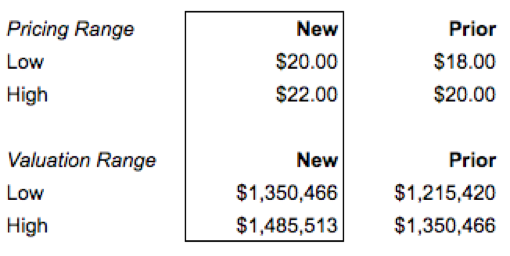 Source: Company data
Valuation reflects pro-forma common shares outstanding as well as dilutive securities
Below are some more Mongo metrics we have been monitoring ahead of the IPO...
Revenue growth stacks up on par with other 2017 peer IPOs. Revenue growth is perhaps the single most important metric for SaaS valuations. Mongo has consistently posted revenue growth of 45%+ in each of the last six quarters. These numbers are strong on an absolute basis and OK on a relative basis. Compared to other 2017 software IPOs (incl. OKTA, YEXT, AYX, CLDR, and MULE), MDB's average revenue growth over this period falls roughly in-line.
Chart 2: MDB revenue growth vs. peers
Source: Company data
Chart 3: St. dev. revenue growth MDB vs. peers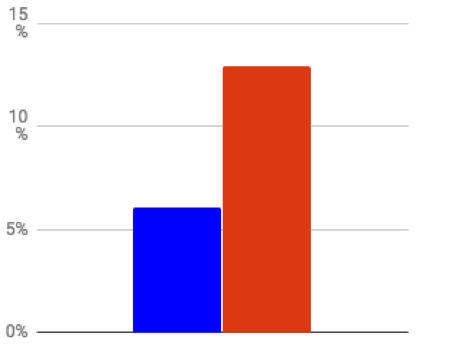 Source: Company data
We do note that MBD's revenue growth has been much more consistent than peers mentioned, with a standard deviation roughly half the peer average. Relative growth will likely matter more; however, public market investors do value consistency.
Operating margins weak. Losses are not uncommon in high-growth software; however, healthy software companies work towards a balance of profitability and growth. MDB's profitability looks weak relative to peers. Combined with the relatively average revenue growth, the lackluster margins could weigh on shares. That said, Mongo's margins appear to be trending in the right direction -- a pattern not as evident in the peer group.
Chart 4: Operating margins - MDB v. peers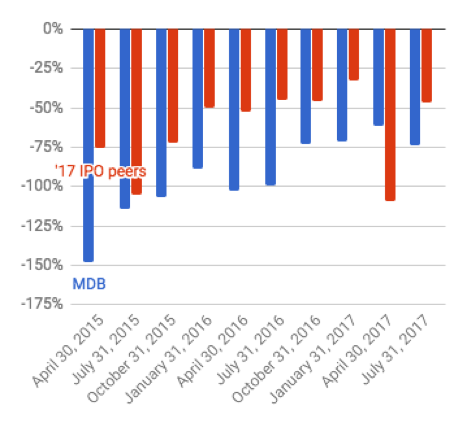 Source: Company data
Underlying signs suggest Mongo's growth engine can remain strong... Sales efficiency measures returns on sales & marketing spend. MDB continues to post sales efficiency > 1x, indicating that the company earns back its marketing spend within one year. Notably, MDB appears to be outperforming the average SaaS company on this metric. Mongo has been operating for 10 years; other companies of similar maturity generally start to see sales efficiency dip below 1x.
Chart 5: MDB Sales Efficiency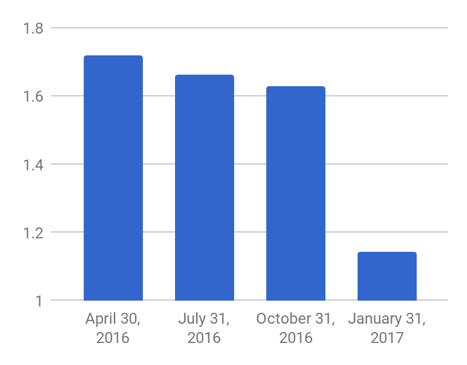 Source: Company data (Note that Jan 31 2017 data is annualized)
Chart 6: Average SaaS Company Sales Efficiency
Source: tomtunguz.com
Other strong signs for underlying operating fundamentals:
Mongo continues to generate robust growth among existing customers.

MDB's ARR (annual recurring revenue) expansion rate has exceeded 120% over the last ten quarters. Further, the company notes that ARR from it's top 25 customers has increased 12.3x on average. Revenue growth within an existing customer base tends to carry higher margins vs. new customer revenue.
Chart 7: Mongo Customer Cohort Analysis (copied from S-1)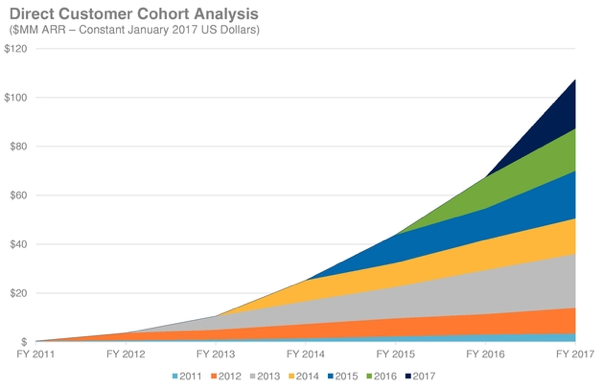 Source: Company filing
New customer returns are strong as well.

Data provided on MDB's 2015 customer cohort (i.e. customer's acquired in 2015) suggests the company earned a 30% IRR on these customers within 3 years. The analysis only covers one cohort; however, promising ARR trends on other recent cohorts (seen in chart 6 above) should support IRRs from these customers as well.
Taking a step back from the S-1...it's a huge market opportunity. Databases are foundational technologies for other software applications and the sector is one of the largest within the software market as a whole. Oracle - one of the largest players in the market currently - generated $38B of revenue last year. The market is ripe for disruption, with most large incumbents (incl Oracle and IBM) still specializing in relational (SQL) databases that made their original debut in the 1970s. If MDB's noSQL databases can capture even 1/10th of the market ORCL currently serves, that translates into nearly 10 more years of 45%+ revenue growth.
In other news...
Thanks,
Phil Haslett
Founder + Head of Investments, EquityZen