Weekly Update #215: Roku files for IPO
Today's blurb comes from Catherine Klinchuch, our Research Lead.
Roku files for IPO
Roku filed an S-1 with the SEC on Friday, indicating its intent to complete an IPO. The company will be trading on the NASDAQ under the ticker "ROKU".

Roku is not yet profitable, but growth remains solid. Trailing twelve-month (TTM) revenue was $436M, a 23% increase over the prior twelve-month period.

Expected IPO pricing range is not available at this time. Roku's implied valuation from its last funding round was $1.1B. Netflix - the closest pure-play comp - trades at 7.3x TTM sales. If Roku achieves a similar multiple, its shares would be worth ~$3.2B (using revenue figure cited above).

Key Roku investors include Menlo Ventures and Fidelity
Key questions from our reading of the S-1
Public investors can be less patient on achieving profitability than their private market peers and some recent tech IPOs have floundered post-offering as profit expectations were reset. What is Roku's path to profitability and how quickly does the company expect to move out of the red?

What does the competitive landscape look like for Roku? The company indicates it has a 37% share in the streaming media playing market -- how has this changed over time? Roku's key competitors include three formidable tech giants -- Apple, Amazon and Google. What is the company's strategy to compete effectively against these deep-pocketed rivals?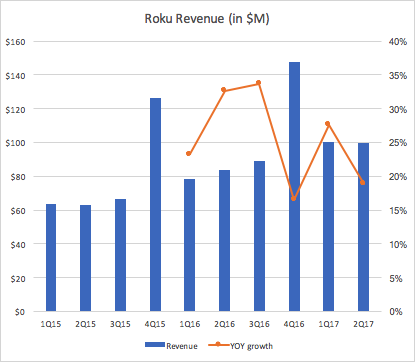 In other news...