5 Quick Hits about Initial Coin Offerings (ICOs)
Initial Coin Offerings, or ICOs, are growing quickly and becoming a substantial channel through which fundraising for blockchain-based projects and companies occurs. As an investor, it's important to understand this emerging landscape. Why should you care? Really, there are two big reasons:
Blockchain technology has the potential to be very transformative, on the scale of mainstream internet adoption in the early '90s. It is a decentralized database to track just about anything, so the ramifications are numerous and at potentially massive scale.
Token (often referred to as coins) offerings may upend how blockchain companies are financed.
So, here are some quick hits about the emerging ICO landscape.
What is an ICO?
An offering of a token by the creator of a blockchain-based protocol or the sponsor of a project to be built on an existing blockchain-based protocol. Typically, the issuer will offer their new token in exchange for a liquid cryptocurrency, like bitcoin or ethereum. The project sponsor can raise funds for their business and also create momentum by getting believers and influencers to buy the ICO and increase the value of the new token. This will incentivize developers to build on the protocol and earn the tokens.
The market opportunity could be massive.
The total market cap of cryptocurrencies and coins denominated on existing blockchains is $112.4 billion (source: coinmarketcap.com). Further, the velocity of adoption of tokens is increasing. To date, $521 million has been raised across 63 ICOs in 2017 vs. $260 million in 2016 (source: Bloomberg), which is a pace of a nearly 400% increase year over year.
Token sales are increasingly becoming the funding mechanism of choice for early stage blockchain projects. (Image sources: Smith + Crown)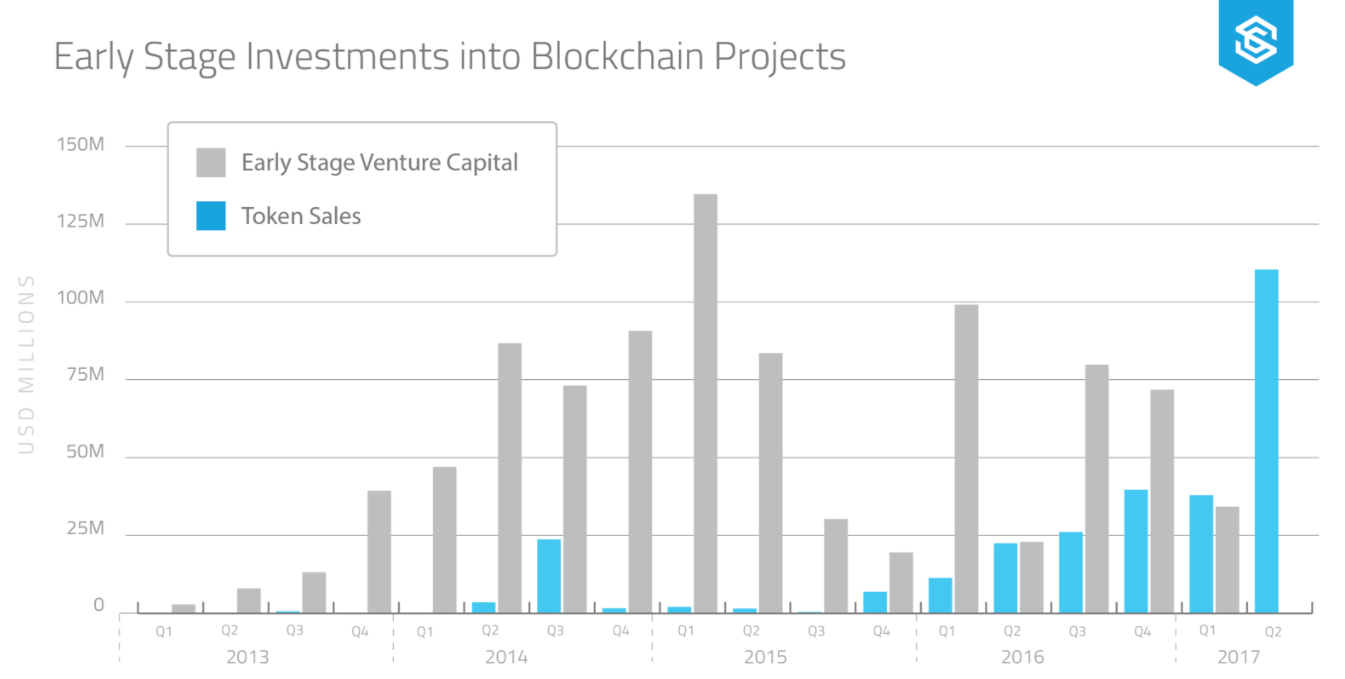 Funds raised via ICOs are concentrated in the top 10% of projects, but there is a long tail with an average raise of $2 million.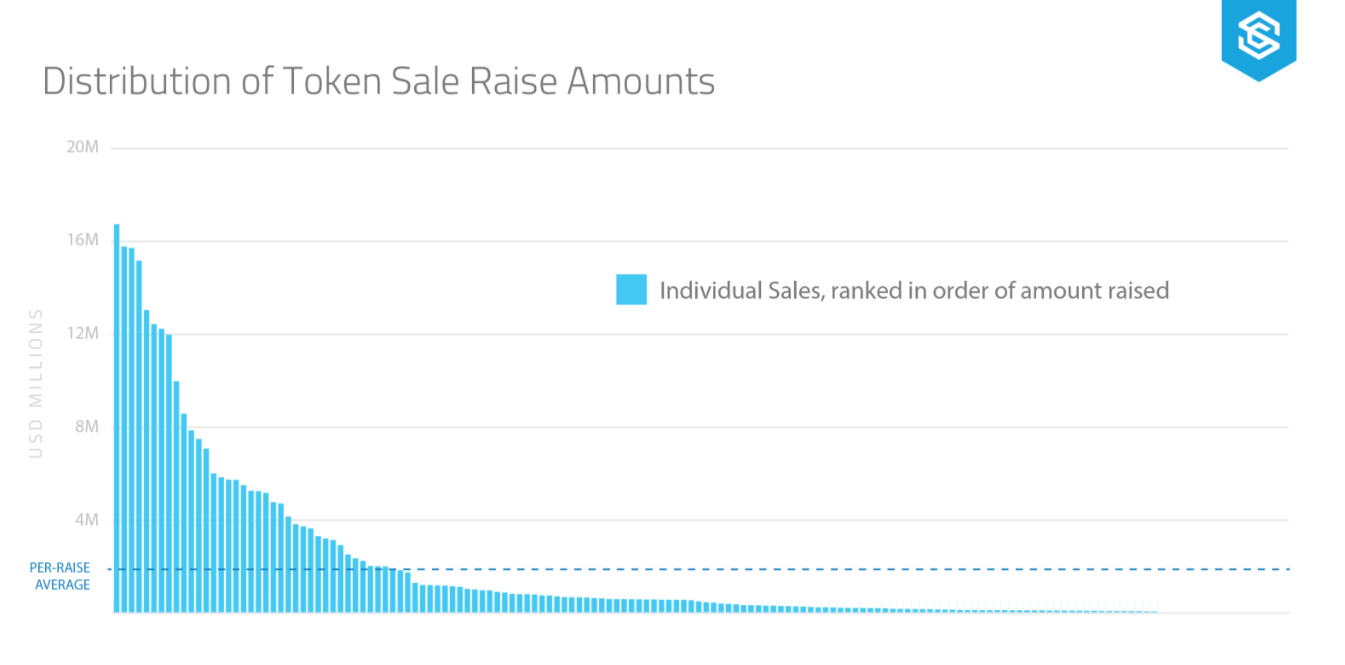 Ethereum is becoming the principal protocol on which projects are built and new coins are launched.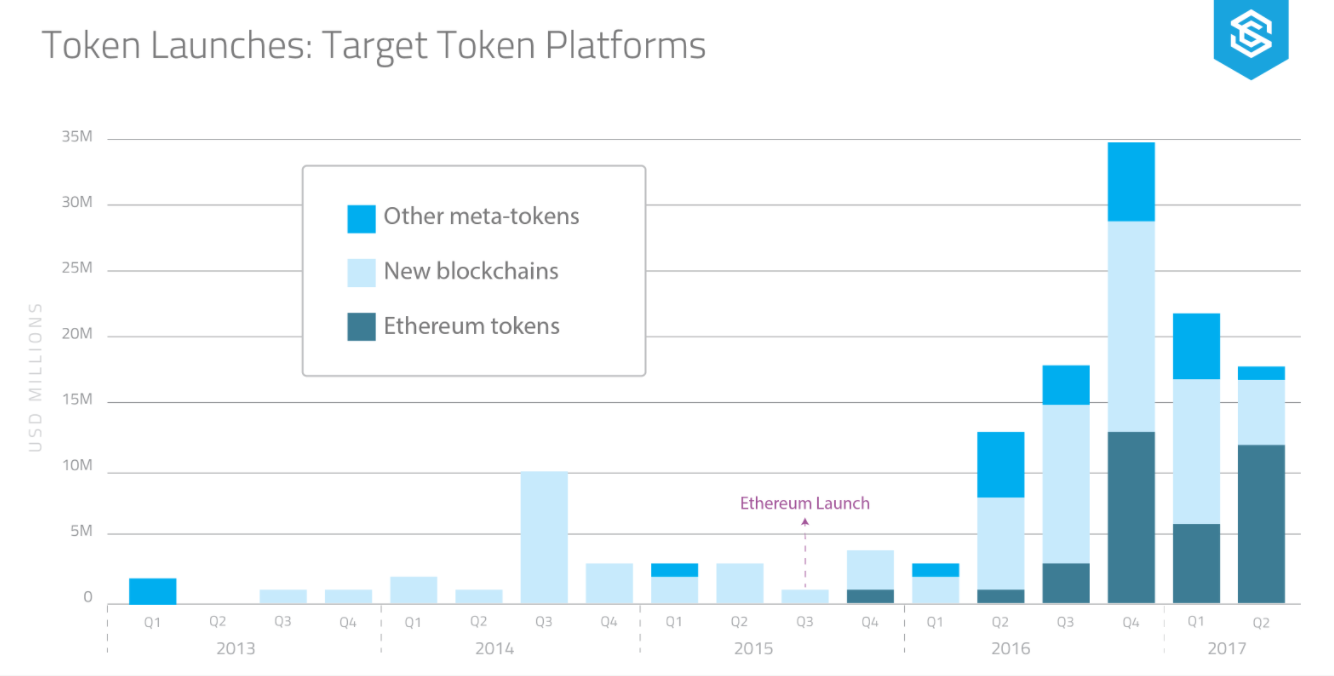 Finally, a word of caution.
The space is thinly regulated at best, and there are not many vetting mechanisms for the quality of blockchain projects or to weed out fraud. It is vital to review the white papers that are published in connection with the offerings to understand the proposed technology and the team behind it. There's not much legal recourse for when things go wrong either, as many offerings originate outside the US (making it harder to hold wrongdoers accountable) and the regulators and market have yet to create well-defined rules of the road.
But, if you're a believer in the potential of blockchain, token offerings are an accessible way to source blockchain-based projects and startups and align yourself with their success.