Last week, Blue Apron and Tintri both filed S-1s with the SEC to go public later this year. Both companies made early moves to IPO in late 2016, but eventually put those plans on hold as Blue Apron focused on improving its financial metrics and Tintri watched how the market responded to the IPO of rival Nutanix. This is where the similarities between the two companies end, so I've put together a short summary to compare each.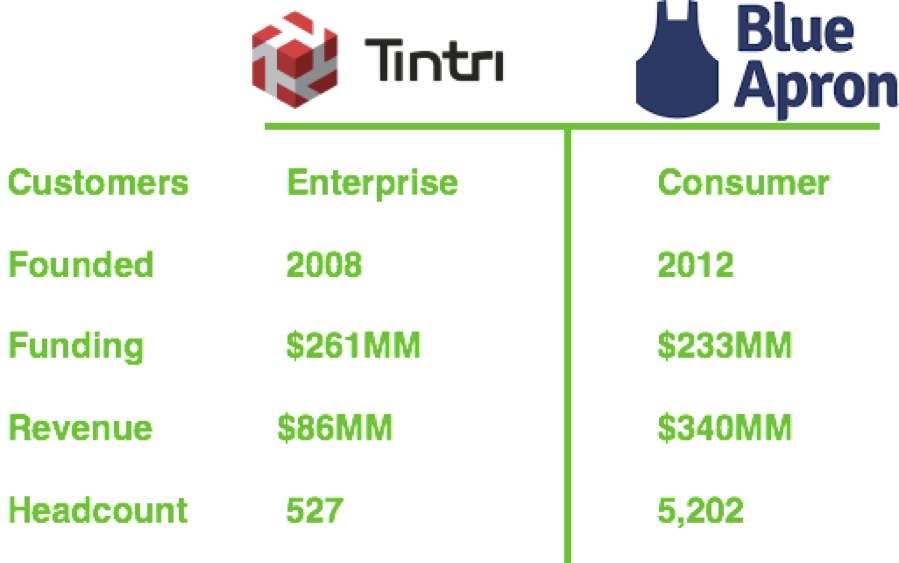 Tintri, a cloud storage company, has slowly been building its client base among Fortune 100 companies, boasting "7 of the top 15 Fortune companies" as customers in its S-1 filing. While Tintri hasn't become a household name, it has long commanded the attention of notable investors, such as Silver Lake Kraftwerk, New Enterprise Associates, and Insight Venture Partners.
While revenues have steadily grown over the last several years, the company warns it has "'a history of losses and may not be able to achieve or maintain profitability."
This risk emerges from the company's high spend on sales & marketing, as it tries to compete for accounts against established cloud players, such as Dell EMC, and new flash storage rivals, including Nutanix and Pure Storage. Nutanix, which went public in December 2016, was met with a strong initial response from the market but has since retreated to a 18% premium above its original issue price of $16 per share.
Blue Apron began entering homes in 2012 with its planned meal delivery service and has enjoyed rapid growth since (133% in the last year).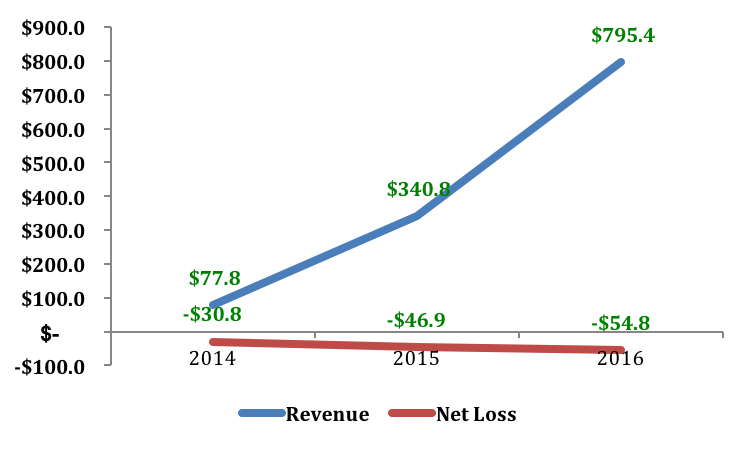 The company is facing stiff competition to prove the grocery delivery service business, from rivals such as InstaCart, HelloFresh, and Plate who all emerged around the same time.
While Blue Apron's focus on improving its financials resulted in a net profit for the first quarter of 2017, investors should be wary of the risks associated with overly ambitious growth. WebVan, an earlier attempt at the on-demand grocery delivery service, operated for only 3 years before declaring bankruptcy in 2001 and has since been labeled as "the poster child of the dot-come excess bubble".
It appears that Blue Apron's management understands it still has a "novel business model" and that it is increasingly difficult to manage at scale, specifically highlighting in its S-1 the importance of developing a trusted brand by protecting food quality and providing consistently high service among the key components to winning share from competition.
In other news...