Weekly Update #175: Winners, losers, gainers, laggards
Not too long ago, as markets were preparing for uncertainly leading up to the U.S. election, we wrote a blog post about The Pre-IPO Investment Opportunity in an Up Market. Now, we are starting to see the impact of uncertainly following the election.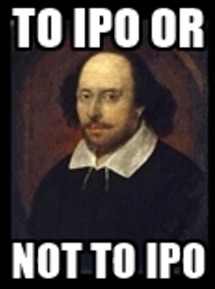 On IPO Markets:
In private markets:
What should be made of the dichotomy here? In any robust market, there are winners and losers, gainers and laggards. Generally speaking, investors prefer normal market environments when valuation changes and liquidity dynamics are driven by company fundamentals, as opposed to macroeconomic or technical factors. In pre-IPO tech, this still seems to be the case. AppDynamics is still planning to go public in 2017. Snap is the buzziest IPO name since Facebook. Ola is facing competitive challenges and, by comparison, doing less than half the business of a similar company (albeit in a different region) in Lyft. Stripe is growing faster than public competitor Square. In the weeks ahead, we'll keep an eye on whether fundamentals continue to drive markets.
Elsewhere...
Want a concise review of financial markets on a daily basis? Finimize is a personal finance platform that curates and explains two important financial news stories each day. With a CFA and ex-Wall Street sales-trader as its head of content, Finimize succinctly makes financial news relevant - for free and in a brief, 3-minute read. EquityZen readers can sign up for Finimize via this link and receive 3-months of Insider status (which usually requires 5 referrals to the platform).
Thanks,
Kaylock Yam, CAIA
| Distribution Lead |
EquityZen