Weekly Update #173: What Trump Means for Tech
Enter the Donald: Phil's quick take on Trump's impact on Tech
My initial thoughts on how Trump's presidency will impact the technology sector.
No material impact on fundraising for private companies

. If anything, regulations may get removed for potential IPO candidates (though likely nothing implemented for a few years)

Large public tech companies (Apple, Amazon, Google) are trading down

, fearing that any major changes to immigration and foreign trade policies could affect the bottom line. (more here from Bloomberg: Trump Tech Meltdown Hits Fourth Day With Amazon Cut by $35 Billion)

Hurts companies' abilities to recruit international talent

. A) foreign workers may feel intimidated in

Trump

Nation, and B) we might see a change in how work visas are processed.

Banks may be able to take on more risk

. If parts of the Volcker Rule (which restricted the ability of banks to take on too much proprietary positions) get repealed, you could see investment banks committing their own capital to later-stage tech companies

Healthcare tech is scared

.

Trump

hasn't spelled out too many of his planned actions, but has certainly been vocal on trying to repeal Obamacare (aka the Affordable Care Act). That has consequences on a plethora of healthcare tech companies that had built businesses in, around, and on top of Obamacare.
(Smaller impact, but something voiced to me directly) Google/Facebook/Microsoft engineers on H-1B Visas that had plans to leave and found their own startup, are now taking a more conservative approach until learning more about

Trump

's new immigration regimes.
Flat is the new up? Eh, maybe.
I shared my thoughts on the Postmates flat round last week on our blog ("Flat is the new up. Or you can fire a bunch of people (it's just way less cool."), and also on LinkedIn.

In fact, since my post, talent marketplace Hired just raised $30 million in a flat round.
A new voice for increased financial disclosure? Recruiters.
Great piece from Bloomberg this week about how large, "boring" tech companies are winning the recruiting battle. Erin Griffith at Fortune shares the following: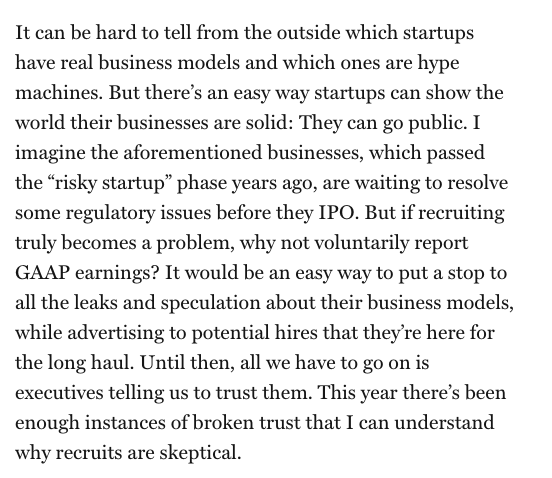 In other news...