Don't Overdilute the Unicorns
I'm excited to see The Economist examine the valuations of private tech companies. In light of the Square IPO, it's become a hot topic in Silicon Valley (and in other Venture Capital arenas) to compare IPO valuations to the last round of financing. The Economist will hopefully bring the conversation to a wider audience.
However, even they got some of it wrong. Take a look at the below image from the article:
Additionally, Square's IPO valuation (the "Offer price") on the chart shows $3.3 billion.
And yet, the company's pre-IPO share price was $15.46, and the IPO price was $9.00. Wouldn't we expect to see $6 billion / $3.3 billion be the same ratio as $15.46 / $9.00?
The difference lies in the option pool. The option pool is the pool of stock options that a company issues to employees as a means of equity compensation. A typical pool consists of both issued and unissued stock options. Issued options are ones already in an employees' possession, whereas unissued options have been authorized to be issued, have not yet been handed out. Here's a sample of Square's option pool leading up to the IPO (from their
Prospectus
):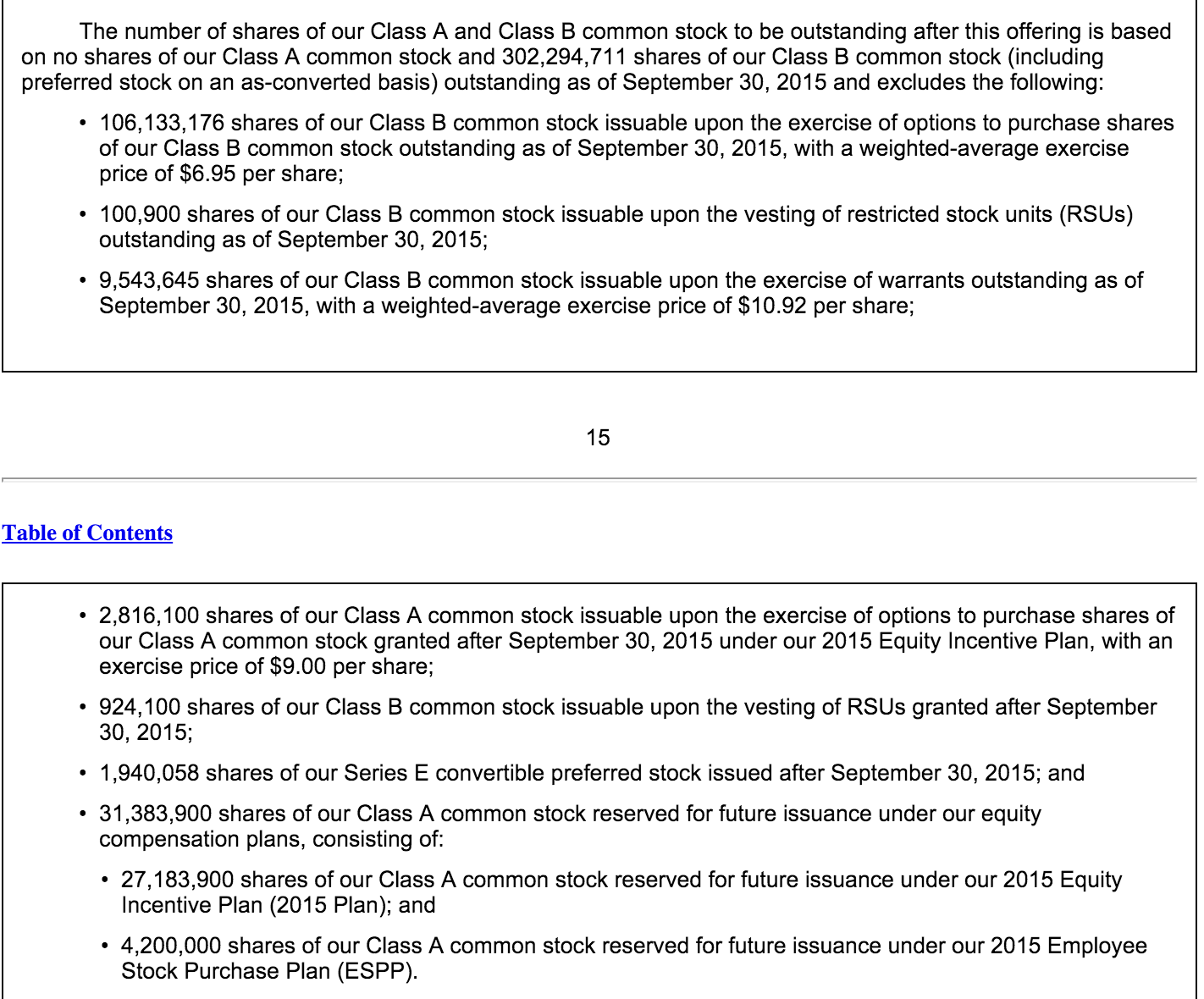 You'll see that all these options are "excluded" from the IPO valuation. Yet, based on EquityZen's research, these are almost always included in a company's pre-IPO valuation (likely so that a private tech company can boast as high a valuation as possible, to attract more press, and more talented future employees)
So why does any of this matter? Well, it creates an apples-to-oranges valuation comparison. And, it unjustly amplifies the magnitude of the "down round" that recent tech IPOs have been lambasted for.
We at EquityZen wanted to highlight this difference for our dedicated readers. As always, if you want to chat more on the topic, just shoot us a note on Twitter (
@equityzen
).