In order to view EquityZen's Investment Offerings, you must be an Accredited Investor. Please verify your status below.
Hello Investors,
Email Delay
With the Labor Day holiday, the weekly email got pushed back a day: apologies!
M&A Pickup
While the stock markets have pulled back over the few weeks, and we still haven't seen an IPO, it's worth noting that larger corporations are using this opportunity to make mid-size acquisitions of tech companies, both private and public. A few worth noting:
Some of these were positive outcomes for employees and founders, while others were referred to as "fire sales", in which it's likely that only the institutional investors really got their money back (see: Good Technology).
However, the returns for Adallom and Elemental shareholders are likely significant. Adallom had only raised $50 million from outside investors, while Elemental had raised $44 million: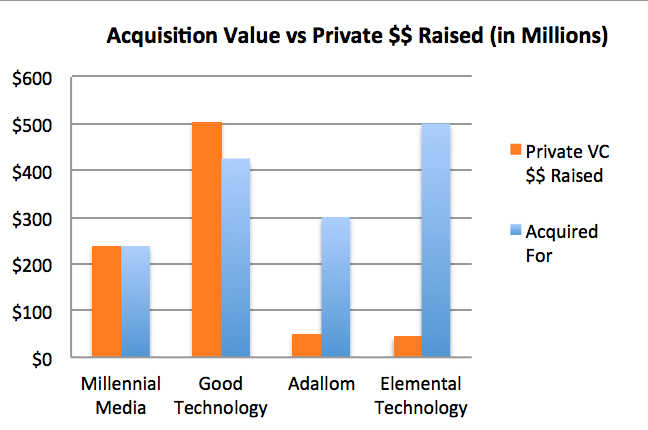 Expect to see more consolidation as acquirers don't have to compete with lofty unicorn valuation bids from late-stage investors, given the market pullback. Additionally, expect these acquisitions to be for cash (like all four of these deals): most acquirers' share prices have also decreased.
After closing their third fund with $85 million, 500 Startups is setting out to raise its fourth fund with a target of $200 million.
Emergence Capital Partners, one of the most highly regarded investors in enterprise SaaS companies, has begun to shift its focus to mobile enterprise applications.
Fenwick & West LLP analyzed the terms of 166 venture financings closed in the second quarter of 2015 by companies headquartered in Silicon Valley.
Thanks,
Phil
Haslett
| Founder & Head of Investor Relations |
EquityZen
To learn more about these offerings, contact us at hello@equityzen.com

Don't see what you're looking for? Tell us what companies or sectors you're interested in, and EquityZen's shareholder outreach team will work to meet your investment requests.
Funding Rounds Since Last Week


BlaBlaCar - $160 Million Series D


NewsCred - $42 Million Series D


Mobcrush - $11 Million Series A