Hello Investors,
Two weeks, two major upgrades to the user experience for our clients. Clearly we aren't experiencing the dreaded "summer slowdown" here at EquityZen.
Last week we highlighted the fact that all Term Sheets can now be executed directly on the EquityZen platform, eliminating the need to e-mail you a link to the documents. This week, we are (even more?) excited to highlight a new feature that allows you to see all of the investments you've made on the EquityZen platform and how much is allocated to each investment.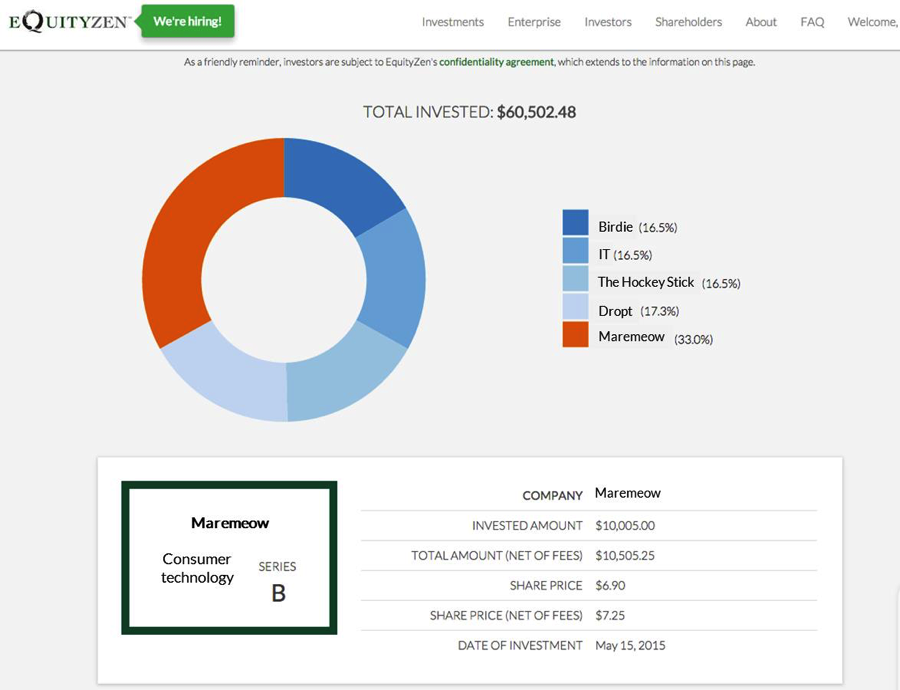 The new "My Portfolio" page is meant to provide with an overall snapshot into all the pre-IPO investments you have made through EquityZen and help you better understand your portfolio. It provides you with relative weightings for each of your investments and also provides the amount invested both on an individual and aggregate basis. If there are other metrics you would like to see, feel free to e-mail us and let us know!
In other news....
Aileen Lee, founder of Cowboy Ventures, provides an in-depth analysis into the largest venture-backed U.S. startups in a followup to last year's analysis of unicorns.
Jack Dorsey faces a imminent decision on his leadership roles, as a Square IPO makes a continued tenure as CEO at Twitter unlikely.
DraftKings' new fundraise at a $1.2B valuation adds the company to the increasingly large ranks of unicorns, while Fox Sports locks in $250M of ad revenue as part of the terms of the deal.
The news aggregator added another $50 million to the $160 million the company has previously raised from VC's at between a $800M to $1.3B valuation.
Following the most severe drop in the Shanghai Composite since 1997, investors question the stability of the market as it appears continued high levels of government intervention are required to stave off continued losses.
Thanks,