Uber's Rough Public Market Ride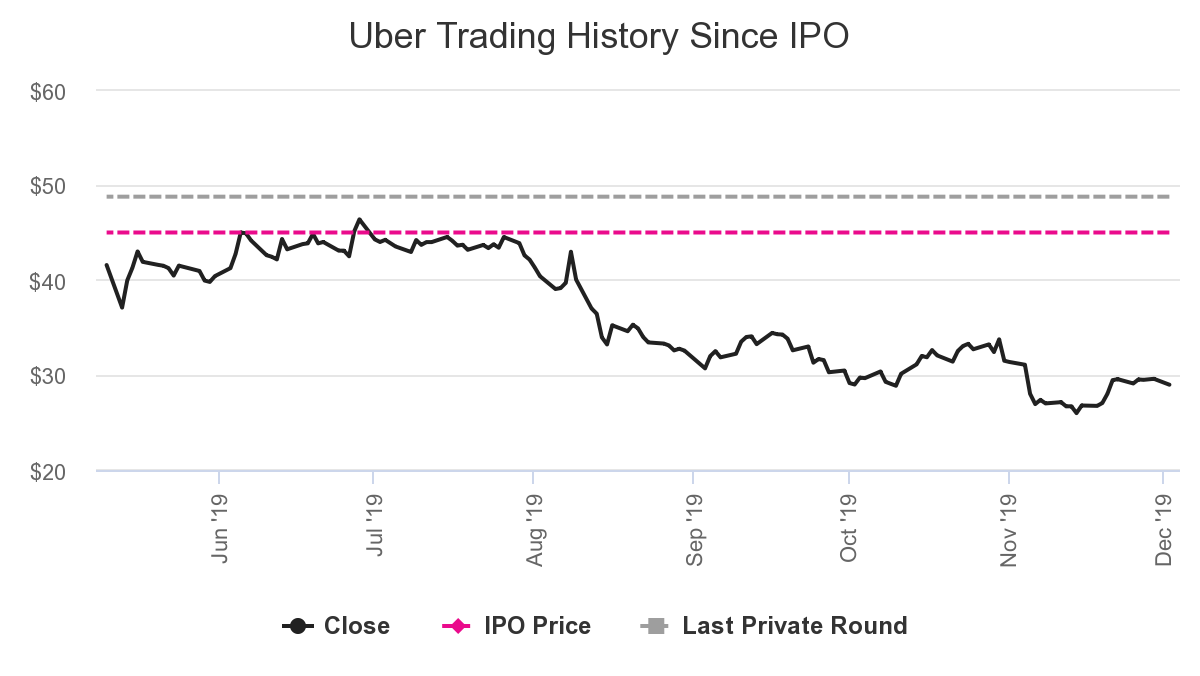 Source: YCharts as of 12/2/2019
Uber faces a tough road ahead. The company's share price has steadily decreased as financial performance has missed expectations and regulatory concerns mount. Despite good Q3 performance and new focus on 2021 EBITDA profitability, the company will need to show that the past quarter was not a drop in the ocean and was rather a change in tides.
IPO and Public Market Background
The company went public on May 10, 2019 making it the second startup to go public this year. Uber's path to IPO, though, was anything but easy. After a few tumultuous years that culminated in a new CEO, Uber finally set its eyes on the public market in December 2018, with high hopes of an up round. Those expectations were quickly reined in when the public reacted negatively to Uber's IPO paperwork. In order to keep its IPO on track, Uber priced the offering below its last private round, hoping it would allay investors' concerns. Even so, Uber's stock debuted at $42 a share, below its offering price of $45. Thereafter, the stock has only closed at or above its offering price three times, never reaching its last private round, and beginning in August, the share price has steadily fallen to approximately $30, as shown in the chart above.
Financial Performance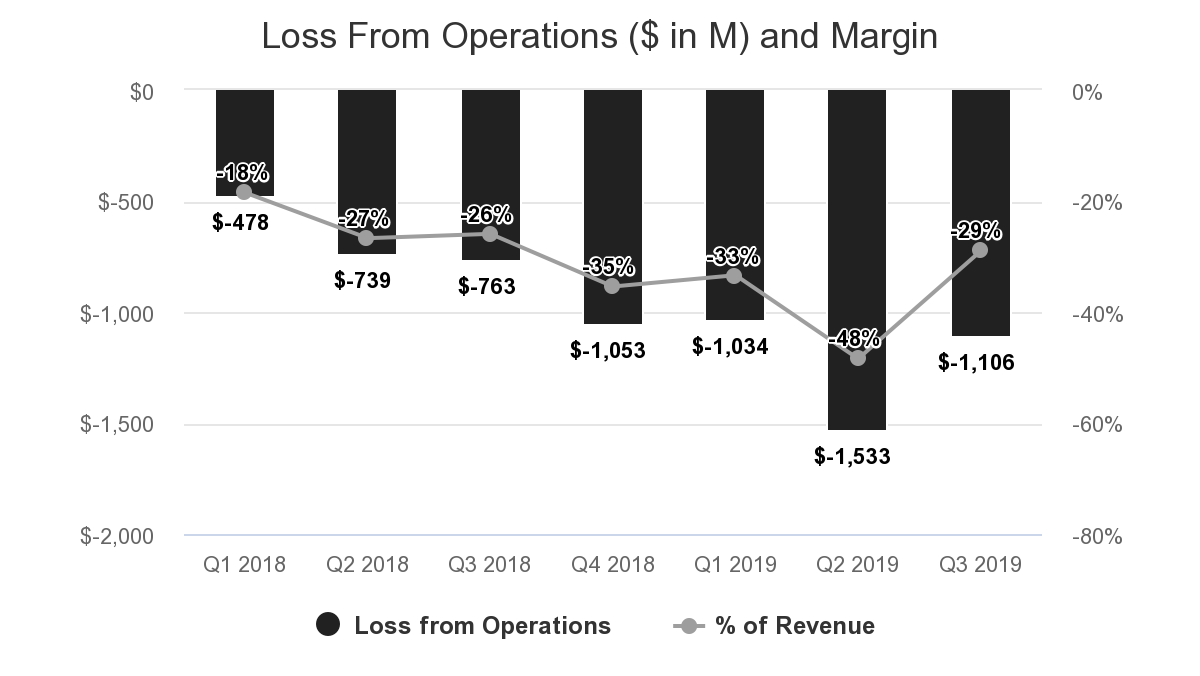 Source: Uber SEC Filings
Note: Q2 Loss From Operations has been adjusted for stock-based compensation related to the IPO

Uber's profitability has been Wall Street and investors' main concern. Excluding Q3, Uber has consecutively increased losses, passing $1B in Q4 2018 and jumping to $1.5B (excluding stock-based compensation related to the IPO) in Q2 2019. Uber's stock price was weighed down by Q2 earnings when the company missed Wall Street's expectations.
Uber's Q3 performance, though, was a bright spot. Loss from operations decreased to $1.1B, representing only 29% of revenue. Additionally, Dara Khosrowshahi, CEO of Uber, disclosed in its Q3 earnings call that the company is targeting 2021 EBITDA profitability. The company aims to achieve this goal through scale. Uber will need to show in future quarters positive trends in its Rides and Eats segment, closing the gap on losses while maintaining healthy growth figures. Specifically, investors will focus on margin improvement, which will indicate whether the company has operating leverage and is capital efficient.
Uber's financial performance is a lesson in aligning company goals with the public market. When the company unveiled its IPO paperwork in April 2019, it was immediately faced with questions regarding growth and profitability in a highly competitive environment and its growth-at-all-cost strategy. The company focused on growing gross bookings, shown below, which grew ~20% and ~88% in the nine months ending September 2019 for the Rides and Eats segments, respectively. Despite the healthy topline growth, investors saw weakness in its revenue growth. Q1 and Q2 year-over-year revenue growth slowed to 20% and 14%, respectively, and were below 2018 quarterly growth – 69% and 53% for Q1 and Q2. Ultimately, topline growth took a backseat to profitability for investors.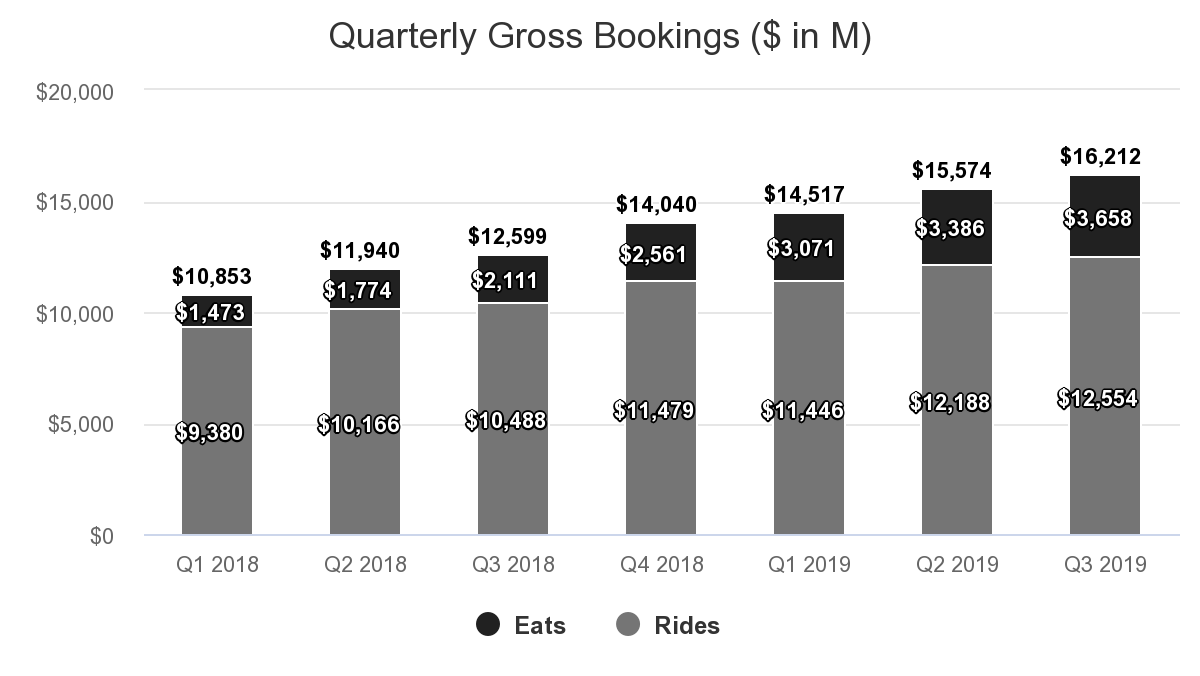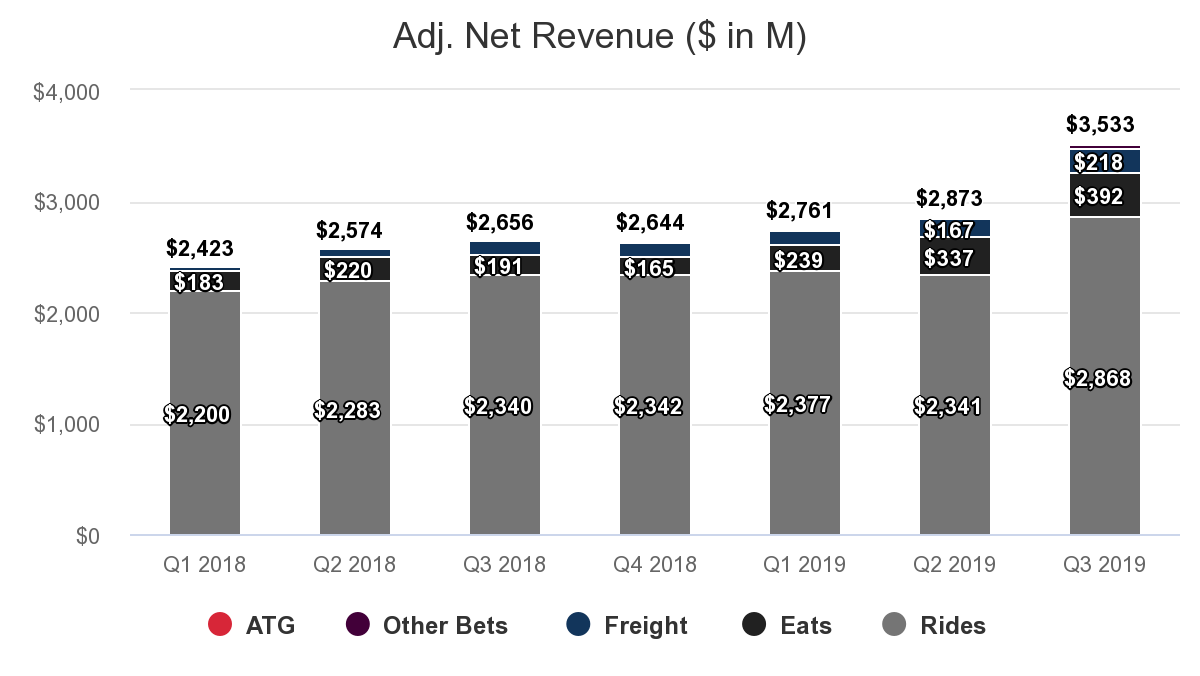 Source: Uber SEC Filings
Regulatory Concerns
Uber faces regulatory threats to its driver classification. Uber considers drivers as third-party contractors, forgoing benefit costs reserved for full-time employees. California recently passed legislation called AB5 that aims to curtail this practice. Effective January 1, 2020, the law would require companies to designate contractors as employees if the company exerts control over how contractors perform their tasks or if their work is part of a company's regular business. This legislation could adversely affect Uber's bottom line. By requiring Uber to classify drivers as employees, the company would incur significant costs, estimated to increase 20-30%.
Dara Khosrowshahi has adamantly maintained that the company will "continue to aggressively defend our drivers' rights to flexibility." While the company may fight the law, Uber's driver classification is in jeopardy, as we expect other states to enact similar legislation. As a result, Uber will need to find a path forward, assuming driver costs increase.
Furthermore, Uber faces tougher regulations in international markets, specifically London, Germany, Spain, Italy and Denmark. As a result, Uber's availability in these markets are limited or are in jeopardy. On November 25, 2019, London transportation authorities did not extend Uber's taxi operating licenses. The company has had a long, tumultuous history with authorities in London, and while Uber can continue to operate during the appeals process, the risk of losing a key European market will weigh on Uber's stock.
Uber's public trading history has been lackluster, weighed down by poor financial performance and regulatory concerns. With a new profitability strategy communicated to the market, Uber has its toughest test ahead. The company will need to show concrete steps for margin improvement and decrease in loss from operations or risk further drops in share price.