Uber and Lyft Trade Sideways as Earnings Approach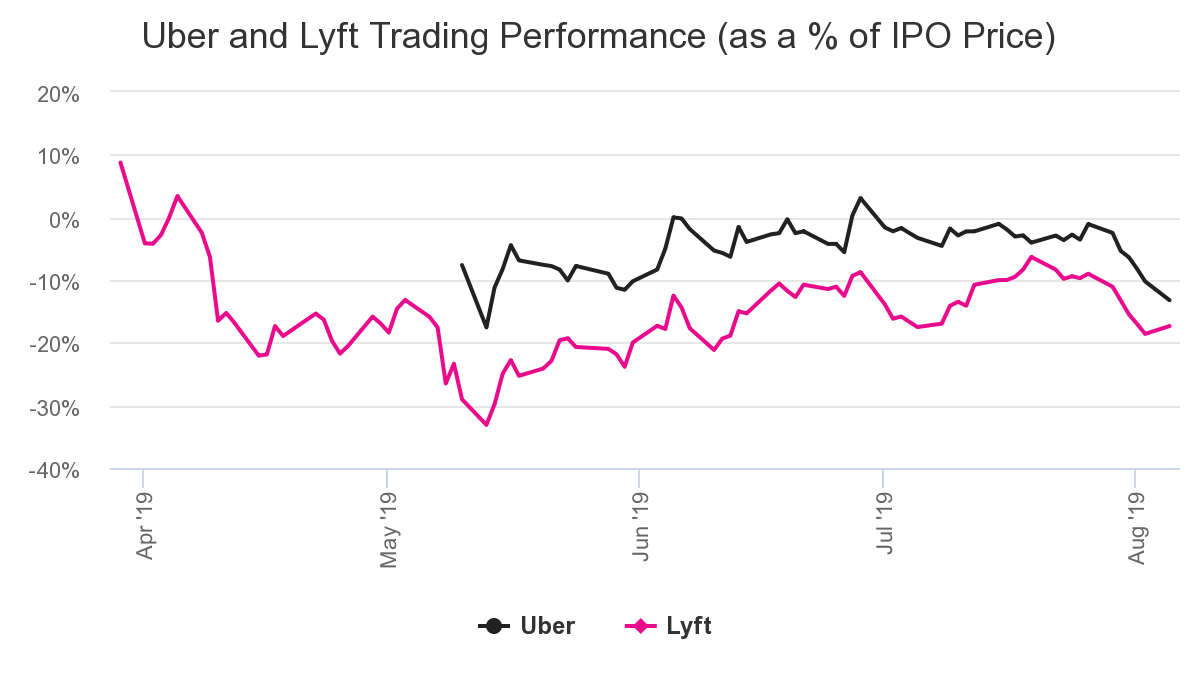 Source: Yahoo Finance
A key difference between the private and public markets is exemplified by both Lyft's and Uber's trading performances since their respective IPOs. Both companies pioneered the ridesharing business model and exemplified the cohort of mature, highly-valued Silicon Valley startups. The investor exuberance surrounding Uber and Lyft, however, quickly faded once they became public. What's most clear, is that steadily increasing private valuations do not necessarily translate to similar successes in the public markets. However, it's worth noting that both companies' private investors remain largely in the black with respect to their Lyft and Uber investments, lackluster post-IPO performance notwithstanding.
Lyft went public on March 29, 2019 and benefited from being the first ridesharing company out of the gate. The company's hopes of a strong post-IPO performance were quickly dashed when its stock price promptly fell below its offering price, where it has stubbornly remained. Uber, which tried to avoid Lyft's path, took a more cautious approach to its valuation but still suffered the same fate, opening below its offering price where it remains today. Both companies have illustrated how a path to profitability is a paramount concern to public investors. While the private markets may tolerate "growth-at-all-costs" strategies, the public markets have a greater desire for positive cash flows in the near-term. This dichotomy between private and public investors is of course more nuanced, but this general rule seems to have held for Lyft and Uber trading performances thus far.
This week, Lyft and Uber are set to release second quarter earnings results, and below are some of the key investor issues to keep in mind.
What Does Wall Street Expect?
Stock prices are heavily influenced by earnings expectations set by Wall Street equity research analysts. With consensus predictions as a baseline, the public markets react to whether actual earnings "beat" or "miss" expectations. Below, are Uber and Lyft's consensus earnings estimates according to data gathered by FactSet:
Uber Q2 Earnings Expectations
Earnings Date: Thursday, August 8, 2019
Quarterly Revenue: $3.3 billion
Monthly Active Users: 98.4 million
Earnings Per Share: $2.03 loss
Lyft Q2 Earnings Expectations

Earnings Date: Wednesday, August 7, 2019
Quarterly Revenue: $810 million
Monthly Active Users: 20.9 million
Earnings Per Share: $1.15 loss
What is Top of Mind for Investors?
As discussed in EquityZen's Uber and Lyft S-1 reviews, there are several key metrics that investors ultimately use to shed light on a company's future profitability and growth. As shown above, Wall Street analysts and investors look at top line growth (revenue), the bottom line (earnings per share), and industry-specific metrics, such as monthly active users. Moreover, since each of Lyft's and Uber's public offering, several other company actions, such as layoffs, have fueled speculation as to each ridesharing company's financial and operating performance.
However, the most consequential move the two ridesharing leaders have taken recently has been with respect to fare increases. In July, multiple news outlets reported that Lyft and Uber were beginning to meaningfully reduce price subsidies for riders. As private companies, Lyft and Uber used their rich coffers to fuel price subsidies to attract riders and enter new markets at an explosive pace with the understanding that these companies were engaged in winner-take-all (or-most) markets. However, price subsidies and their impact on revenue can only be tolerated for so long. As such, investors will be asking if these two companies can successfully balance rider price sensitivity with the need for price rationalization and a path to profitability. And if they cannot, investors will want to understand if non-ridesharing avenues can help lift each of these companies towards profitability. We expect that this week's earnings releases will begin to answer this key, existential question for both Lyft and Uber.