State of the IPO Market: Q3 2019
As WeWork's IPO plans swiftly derailed over the last few weeks, much has been said about the state of the U.S. IPO market and the future of venture-backed public debuts. Understandably, poor post-IPO performances from high-profile unicorns like Uber and Lyft, and more recently from Peloton and SmileDirectClub, have called into question the viability of privately-funded and highly unprofitable enterprises as public companies. Corporate governance issues aside, WeWork's ballooning losses without any signs of significant margin improvement were likely the most important factor in taking the IPO off course. However, while IPO candidates cannot be viewed in a vacuum, investors should be reminded that every public offering is different and that while certain companies have underperformed in 2019, others have provided strong returns to investors. Below, we dive into 16 venture-backed companies and how their share prices have performed in 2019.
What is the state of the venture-backed IPO?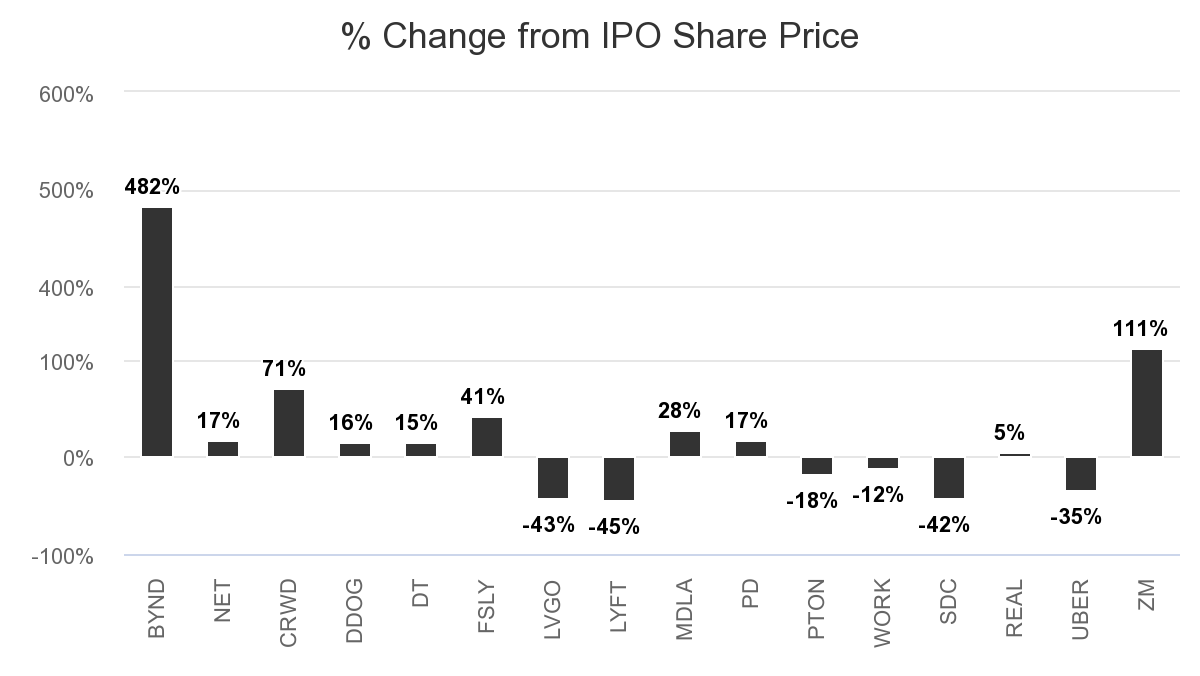 Source: Ycharts; market data as of 10/1/2019
We took a closer look at 16 venture-backed IPOs from 2019—namely, Beyond Meat (BYND), Cloudflare (NET), CrowdStrike (CRWD), Datadog (DDOG), Dynatrace (DT), Fastly (FSLY), Livongo (LVGO), Lyft (LYFT), Medallia (MDLA), PagerDuty (PD), Peloton (PTON), Slack (WORK), SmileDirectClub (SDC), The RealReal (REAL), Uber (UBER) and ZM (Zoom Video). Notably, Lyft, Uber, SmileDirectClub, Peloton and Slack are trading significantly below their respective IPO prices. However, in this batch of companies, the average stock is still up 38% (thank you, Beyond Meat) while the median stock performance is still 16% above the IPO price. What patterns can we draw from this group of companies? Without running very detailed analysis, we can see that margins matter.
Gross Margins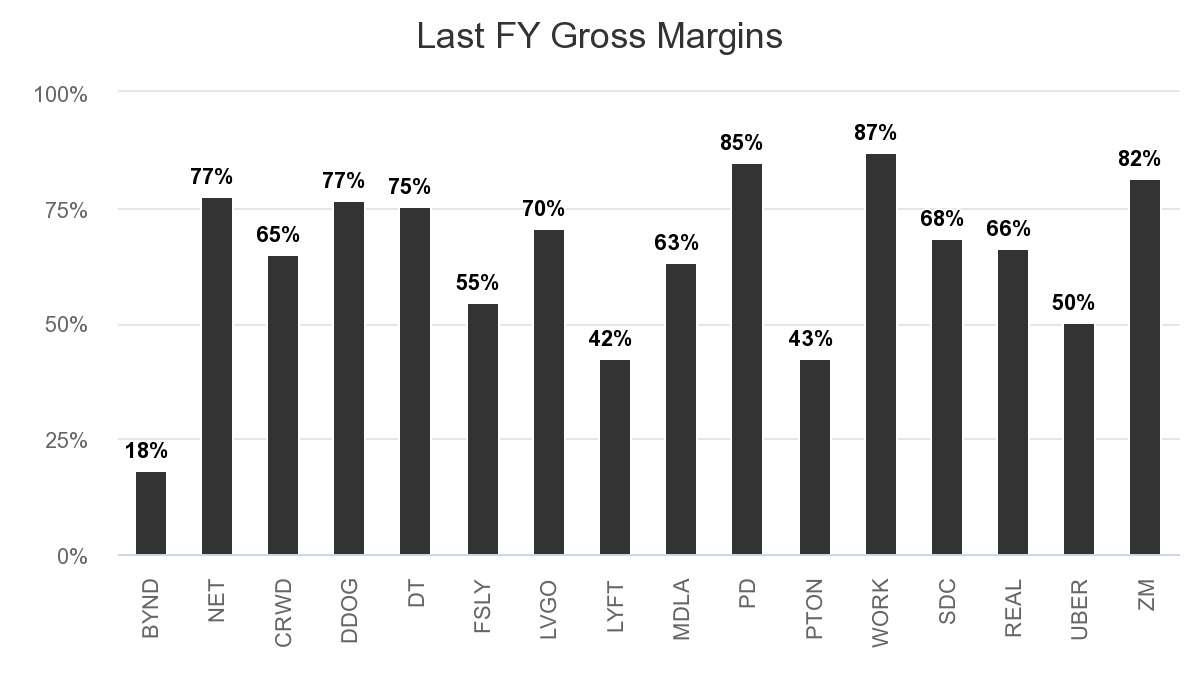 Source: Ycharts; market data as of 10/1/2019
Unsurprisingly, many of the year's positive performers are software companies with high gross margins, including CrowdStrike, Medallia and Zoom. On average, the gross margin for this peer group's positive performers is 66% and 72% if we remove an outlier like Beyond Meat. For the negative performers, the average gross margin is only 60%. This comparison is of course an oversimplification, and Slack, which has the highest gross margin in this group of companies is also down 12% from its reference price of $26. Nevertheless, the chart above at least provides directional evidence that public investors are watching gross margins closely as an indicator of future profitability.
Operating Margins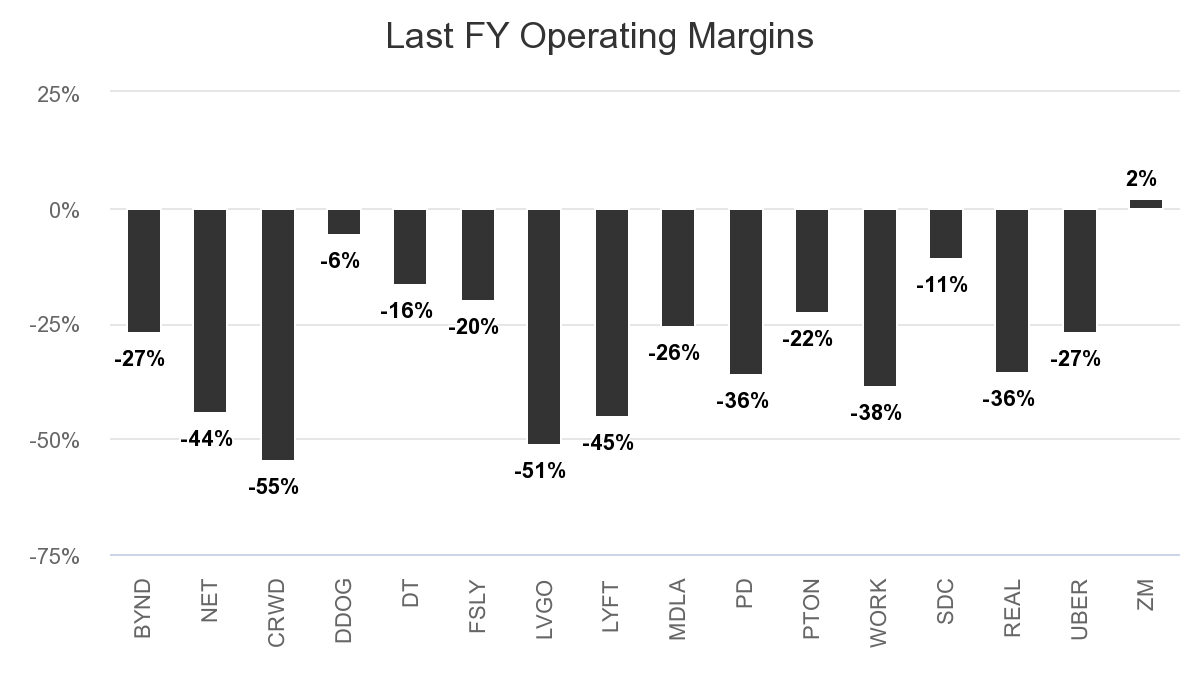 Source: Ycharts; market data as of 10/1/2019
It's not a stretch to generalize that companies with higher gross margins will also have higher operating margins, and our data demonstrate just that. Among the 12 positive performers in our group of 2019 IPOs, the average operating margin is (26%) compared to (33%) for the negative performers. Again, there are outliers—CrowdStrike, for example, has the worst operating margin among its peers and yet its stock is up 71% from its IPO price. Nevertheless, public markets investors are on balance saying that they need to see a nearer path to profitability to be convinced of a stock's merits.
What's the key takeaway?
Countless pages of analysis could be written on what makes a successful IPO. We don't attempt to do that here, of course. However, it's telling that the six negative performers in our peer group grew an average of 108% in the last fiscal year, compared to only 70% for the positive performers. As is often said (in an oversimplified manner), private markets investors reward growth while public markets investors will reward profitability (or at least being closer to profitability). At the very least, given the post-IPO stock price performances of some of this year's cash-burning unicorns, we expect some private investors to move closer to their public counterparts in what they look for in investable companies.