SoftBank Vision Fund: Portfolio Update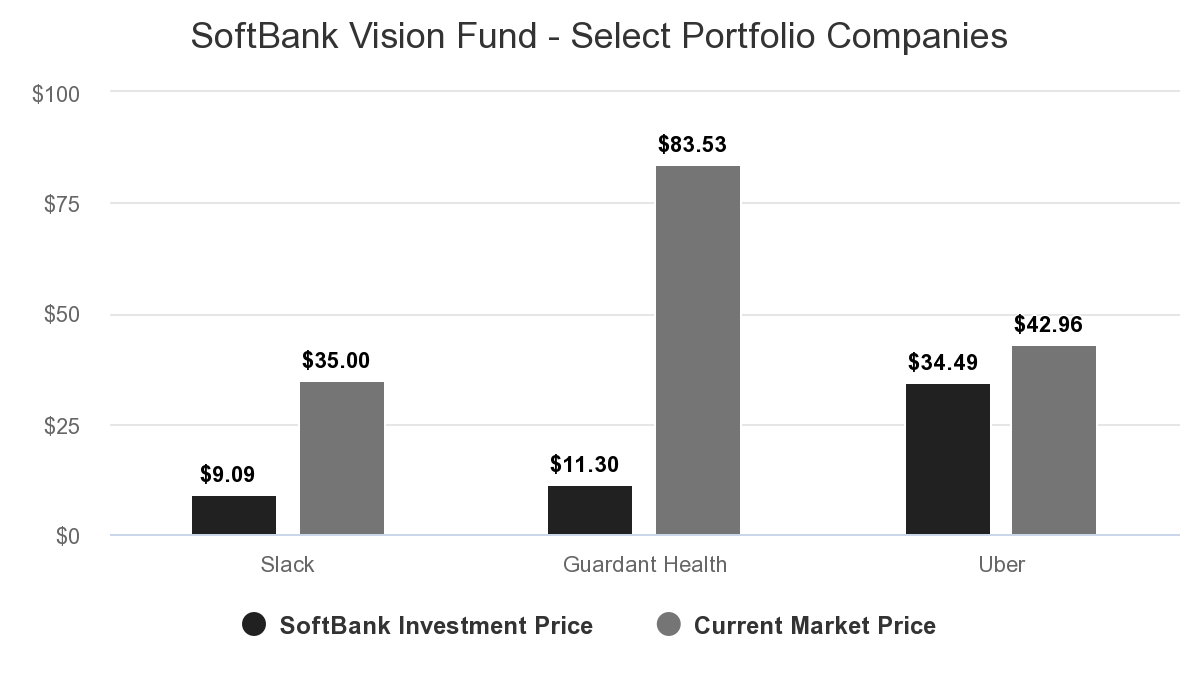 Source: YCharts and Company SEC filings
Note: Market Data as of 7/8/2019. "SoftBank Investment Price" calculated as the weighted average price of all SoftBank Vision Fund investments in each company.
A couple months ago, SoftBank Corp.'s chairman, Masayoshi Son, revealed for the first time return rates for his $100 billion Vision Fund. According to Son, the Vision Fund's equity portion, which consists of nearly $60 billion of capital (the remaining $40 billion takes the form of debt-like securities with a 7% fixed return), was up 45%. However, this 45% figure relies largely on paper gains, as SoftBank has only had a handful of cash exits, like the sale of Flipkart and Nvidia. Given the minimum 12-year life of the Vision Fund, it will take another several years before investors get a better understanding of their cash returns and whether it was wise to hand so many billions of dollars over to SoftBank.
In the meantime, exits will continue to roll in—WeWork is reportedly pursuing a highly-anticipated IPO later this year, and SoftBank has seen high profile IPOs for some of its portfolio companies over the last several months. Namely, Slack, Guardant Health, and Uber, into which the Vision Fund has made several investments, have all gone public and are performing quite well relative to where the Vision Fund invested. Uber, which remains within its lock-up period (meaning SoftBank can't yet begin to sell its stake), has been the subject of much ridicule for its post-IPO performance, stubbornly trading just below its $45 IPO price. However, across multiple investments (including a massive nearly $7 billion secondary transaction), the Vision Fund's weighted average investment price was only $34.49 per share. As such, the Vision Fund's stake has actually appreciated in value by about 25%, which is a solid private equity-style return.
Slack, which went public in a successful direct listing last month, has been a homerun for the Vision Fund. SoftBank invested across multiple Slack securities, including in the Series G and Series H rounds and via a common stock secondary transaction. With a weighted average investment price of only $9.09 per share, Slack's current $35 share price represents a 285% increase in SoftBank's investment, or nearly a 4.0x cash-on-cash return. Moreover, given Slack's direct listing, SoftBank isn't bound by any post-IPO lockup agreements and is able to sell its stake off at its leisure (although we note that selling a 7% stake in an $18 billion company will take some time). Cancer diagnostics and therapeutics company Guardant Health has also performed spectacularly since its IPO last October. The Vision Fund invested in Guardant Health at a weighted average share price of $11.30 through the Series D and E rounds. Today, Guardant Health is trading at over $83 per share, or nearly 640% above SoftBank's investment price, and SoftBank is no longer within the lockup period.
While Vision Fund gains remain mostly on paper, some of SoftBank's portfolio companies have been able to go public and bring SoftBank closer to strong, cash returns for its investors. Three successful IPOs, however, doesn't make a trend, and SoftBank has many billions more in investor capital to successfully lead to an exit. Additionally, we should note that, while Slack and Guardant Health have been stellar successes for the Vision Fund, these two investments represent only $640 million of capital invested, or less than 1% of the Vision Fund. In contrast, SoftBank invested a staggering $7 billion in Uber, so its weighted return across these three companies is far lower than the Slack and Guardant Health performances would suggest. Nevertheless, we commend the Vision Fund on a solid performance so far, and we look forward to tracking its future exits.