Slack Shares Trade Up To $31.50 On Secondary Market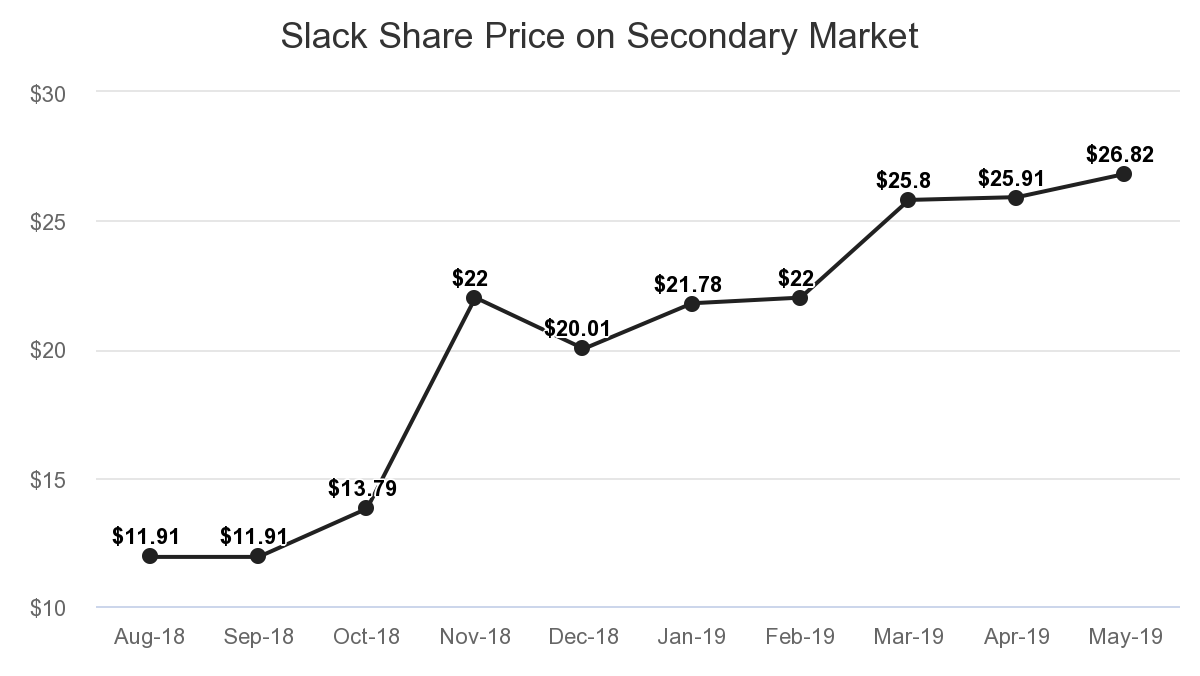 Source: Slack Technologies, Inc. Form S-1
Note: Secondary transaction prices above represent the volume weighted average price per share. The August 2018 price represents the price per share of Slack's Series H Preferred Stock funding round.
In a bit over a week, Slack will become only the second large company to publicly debut through a direct listing, after Spotify's public float last year. As we've previously discussed, there are a number of reasons why Slack chose to pursue a direct listing instead of a traditional IPO. Upon reviewing Slack's Form S-1, another reason has become apparent—Slack's shares have had a relatively robust trading history in the private secondary market. As displayed above, Slack's volume weighted average price per share has steadily climbed from its Series H funding round in August 2018 at $11.91 per share. As recently as last month, Slack's Class B common stock traded at a volume weighted average price of $26.82, or 2.3x its Series H price, and as high as $31.50 per share, or 2.6x its Series H price. In IRR terms, those investors who may have bought Slack shares at $11.91 per share and then sold them at $31.50 per share in May, would expect a 266% internal rate of return (IRR).
Moreover, in just the last ten months, Class B common stock trading volume reached over $365 million. We note that this represents only a small portion of Slack's multi-billion dollar expected capitalization, but it's not far off from Slack's $427 million Series H funding round. Additionally, in a traditional IPO, companies only float a small percentage of their shares, say ten-to-fifteen percent, while the remainder of shareholders are subject to typical six-month lock-up agreements during which they cannot trade. Compared to Beyond Meat, which only floated $241 million of its common stock in its IPO, or PagerDuty, which raised only $128 million, Slack's volume of over $365 million is actually quite meaningful for price discovery purposes relative to IPOs. Slack didn't hire an investment bank to build a book of investor demand and price Slack's shares through a roadshow as a company would in a traditional IPO—Slack may not have had to, given the relative depth of the secondary trading in its stock.
How Much Cheaper Is A Direct Listing?
Underwriting an IPO is a lucrative business—in Uber's IPO last month, banks led by Morgan Stanley were reportedly paid over $106 million. For such a massive IPO (Uber raised over $8 billion), $106 million only translates to a 1.3% underwriter fee. However, on smaller IPOs, this fee on average ranges from 3% to 7% of gross proceeds raised. Running some rough math, Spotify's direct listing demonstrates just how much Slack may stand to save by pursuing the same route. Spotify's direct listing fees were estimated at €35 to €40 million, which translates to approximately $40 to $45 million using today's spot rate. By comparison, if Spotify had instead sold 12% of its total shares outstanding in a traditional IPO (approximately 21 million shares out of 178 million shares outstanding at that time), underwriter fees would have been over $83 million, assuming a 3% fee and the NYSE's $132 per share reference price for Spotify stock. Under these assumptions, Spotify was able to halve its investment banking fees by forgoing a traditional IPO.
Slack's Forthcoming Direct Listing Has Disintermediated Underwriters—Should Wall Street Banks Be Concerned?
Despite Slack's impending direct listing, investment banks can likely continue to count on gigantic underwriter fees for the time being. Slack and Spotify were well-positioned to pursue a direct listing, since both companies had strong balance sheets (i.e., they didn't need the money) and had relatively well understood business models (a roadshow wasn't necessary to explain to investors what each company does). However, as tech companies have disrupted countless industries in recent years, banks shouldn't ignore their potential to disrupt the capital markets and the IPO process as well. We can imagine a world where "investor days" increasingly replace roadshows, leveraging technological advancements in cloud infrastructure and communication to bring investors in direct contact with issuers without a formal bank-run roadshow. Moreover, in part due to advancements in cloud computing, new tech is now built more efficiently, and consumers are adopting it faster than ever before. As such, investors of the future will become savvier, and we shouldn't assume they'll need the assistance of investment bankers to help them evaluate the next major tech IPOs. Wall Street shouldn't get too comfortable.