Q3 Update: SaaS Price-to-Sales Multiples
Back in June, when we published our Slack S-1 Review on the eve of the company's direct listing, the average Price-to-Sales (P/S) multiple for our Software-as-a-Service (SaaS) company comparables set was approximately 23x. Since Slack's debut, economic headwinds have intensified, namely tariff blows between China and the U.S. and indicators of a global slowdown. As such, we updated our SaaS comparables and also added to our set Medallia, Datadog and Cloudflare, which all went public shortly after Slack. See below for our update: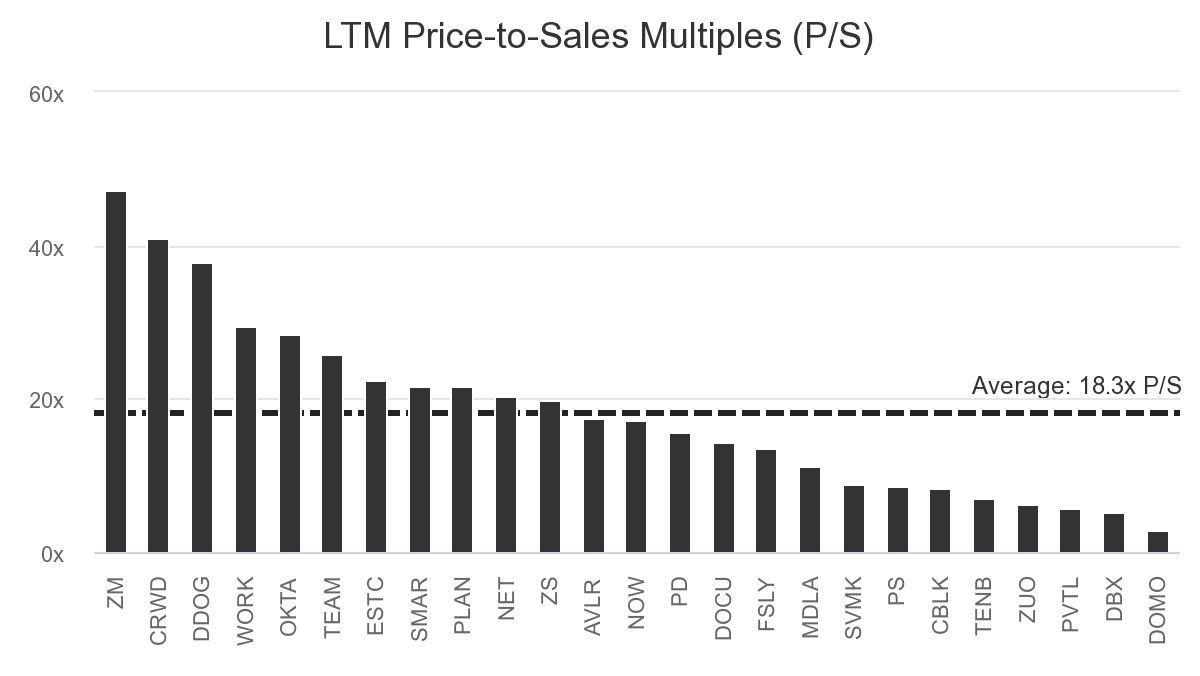 Source: EquityZen review of company securities filings; full company ticker list is as follows: ZM (Zoom Video Communications), CRWD (CrowdStrike), DDOG (Datadog), WORK (Slack), MDLA (Medallia), PD (PagerDuty), ZS (Zscaler), OKTA (Okta), TEAM (Atlassian), SMAR (Smartsheet), PLAN (Anaplan), ESTC (Elastic), NOW (ServiceNow), PS (Pluralsight), AVLR (Avalara), DOCU (DocuSign), FSLY (Fastly), TENB (Tenable), SVMK (SurveyMonkey), ZUO (Zuora), DBX (Dropbox), DOMO (Domo), CBLK (Carbon Black), PVTL (Pivotal), and NET (Cloudflare)
What has changed?
Given recent market volatility, it's not a huge surprise that SaaS multiples across our comparables set of 25 companies have contracted a bit. The average P/S multiple has fallen by almost five turns of revenue to just above 18x from 23x back in June. As before, Zoom Video and CrowdStrike lead the pack although their multiples have contracted severely, trading at 47.2x and 40.9x, respectively, compared to 75.3x and 70.4x a few months ago. Beyond these two companies, the usual suspects—Slack, Okta, Atlassian—continue to trade at high multiples, although the average P/S multiple among these three companies contracted from 32.2x to 27.9x. However, newcomer Datadog has replaced Zscaler among the most expensive SaaS companies, trading at nearly 38x LTM revenue. Towards the bottom, companies like Domo, Pivotal, Dropbox and Zuora continue to trade below double digits and well below the average.
Any key takeaways?
The sector seems to have experienced a widespread pullback in LTM revenue multiples, with our peer average P/S multiple falling from 23x to 18x in just a few months. However, this fall is largely driven by contraction near the top of our peer set—Zoom Video and CrowdStrike have seen their P/S multiples shrink by nearly 30 turns of revenue. Conversely, the median P/S multiple is now actually slightly higher than when we last sent out our SaaS update in August—17.1x compared to 16.8x. Moreover, if we exclude Zoom Video and CrowdStrike from our analysis, the average P/S multiple has only fallen by one turn of revenue since our last update. In sum, most newly-public SaaS companies are holding steady while a couple high-fliers have come down to earth. We'll check back in with another SaaS update towards the end of the year.