Now That Slack Is Public, How Much Did Investors Make?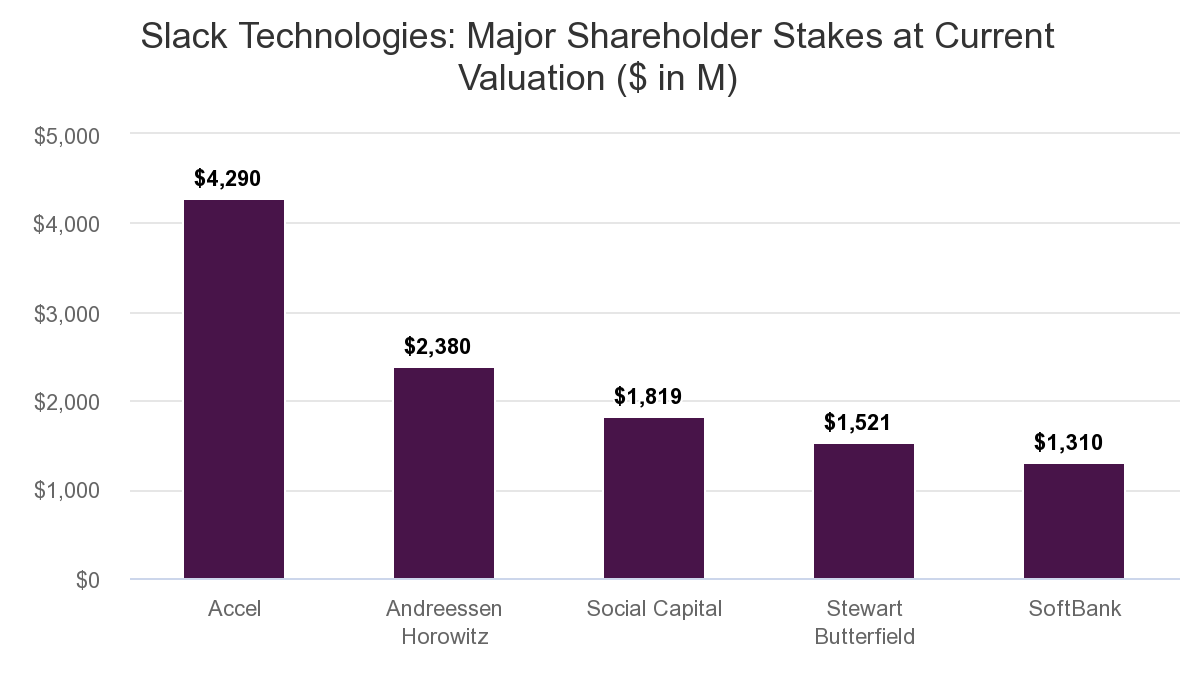 Source: Slack S-1 Filings; YCharts; Market Data as of 6/24/2019
Slack successfully completed its direct listing on June 20, 2019, listing on the NYSE under the ticker "WORK." There was much fanfare around the direct listing, as the NYSE set a reference price of $26 a share with the stock opening at $38.50. A reference price is an indication by the NYSE of what price it believes the company should begin trading at, but, ultimately, the market determines the price based on the bids and asks submitted. Slack quickly rose to a $41.64 share price and closed at $38.70, which translated to a $22.9B fully diluted valuation. This valuation is in stark contrast to the company's last private valuation of $7.8B – in the ten months between the company's last raise and direct listing, Slack's share price appreciated 3x. Slack's quick share price increase begs the question: how much did its investors make in the direct listing and what were their returns?
Slack Went Public, So What Are Investor Stakes Worth Now?
Based on Slack's June 24 close price, the values of Slack's major stockholder stakes are displayed in the above chart. Unsurprisingly, Accel, Andreessen Horowitz and Social Capital are amongst the top shareholders, as they were early investors. Accel and Andreessen Horowitz originally invested in Tiny Speck, Slack's predecessor company, which developed a web-based MMORPG game (both VC firms continued to invest in subsequent rounds). After realizing the underlying software for Tiny Speck's game was on the way out, the company pivoted to what is now a collaboration platform and re-branded to Slack. Shortly thereafter, Social Capital invested in the company through a Series C round in April 2014. SoftBank joined much later and provided ~$300M in funding through a Series G round. Given Accel's continued participation in equity raises, it amassed at $4.3B stake, while Andreessen Horowitz and Social Capital have a $2.4B and $1.8B stake, respectively. By value, these investments were homeruns, as they appreciated to billion-dollar-plus holdings, but in order to truly determine investment success, the internal rates of return (IRR) and multiples on invested capital (MOIC) must be examined.
What Were the Returns?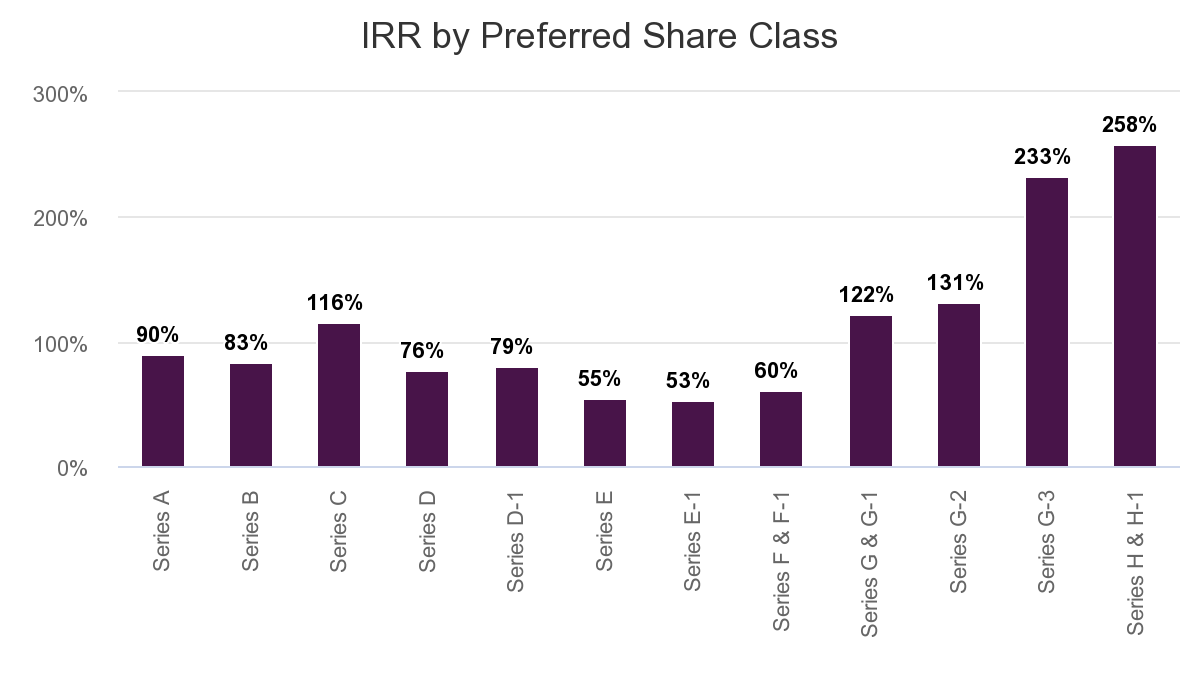 Note: EquityZen analysis above is illustrative only and displays implied internal rates of return (IRR) to previous Slack investors assuming the company's close price on 6/24/2019. Illustrative returns derived from analysis of company regulatory and securities filings. The above returns don't reflect any buybacks, dividends, or redemptions.
Unfortunately, Slack's S-1 filing doesn't disclose a detailed history of their equity raises by investor, and, therefore, individual investor IRRs can't be calculated. Instead, above we have shown IRRs by preferred share class. Slack was founded in 2009 and given the company's pivot in 2014, early preferred returns are disproportionately affected by the time value of money (in contrast to Lyft, which had higher implied returns for early investors). As illustrated in Slack's Path to IPO, the company only became a unicorn after its pivot and took four years to reach its $7.8B valuation.
The Series A and B investor illustrative IRRs are 90% and 83%, translating to a staggering 376x and 145x MOIC, respectively. At the opposite end, the Series G investors, which included SoftBank, realized a 122% return and only a 3.8x MOIC. The increase in IRR is primarily due to Slack's appreciation in value over a short period of time. SoftBank invested in the company at a $5.4B post-money valuation in October 2017 and waited less than two years for the company to appreciate to $22.9B at its direct listing. As a reminder, Accel, Social Capital and Andreessen Horowitz tagged along in subsequent rounds, meaning their returns and MOICs are a blended average of the rounds they participated in.
Overall, Slack's investors saw phenomenal returns. While success thresholds differ across VC investment strategies, a 3x MOIC has traditionally been considered a "good" VC investment. At any Slack round, an investment would see returns between 50% and 260%, or 3x to 370x MOIC, clearing the success hurdle handsomely. Slack's investor experience contrasts with Lyft's through one key mechanism - Slack went public through a direct listing, forgoing lock-up provisions. Therefore, Slack investors aren't required to wait six months to realize their returns and can liquidate right now. Slack's successful debut has solidified direct listings as a viable route to the public markets for some companies, and as more startups mull going public, they may choose a direct listing to allow investors to more quickly realize a return.