Lessons Learned From 2019 IPOs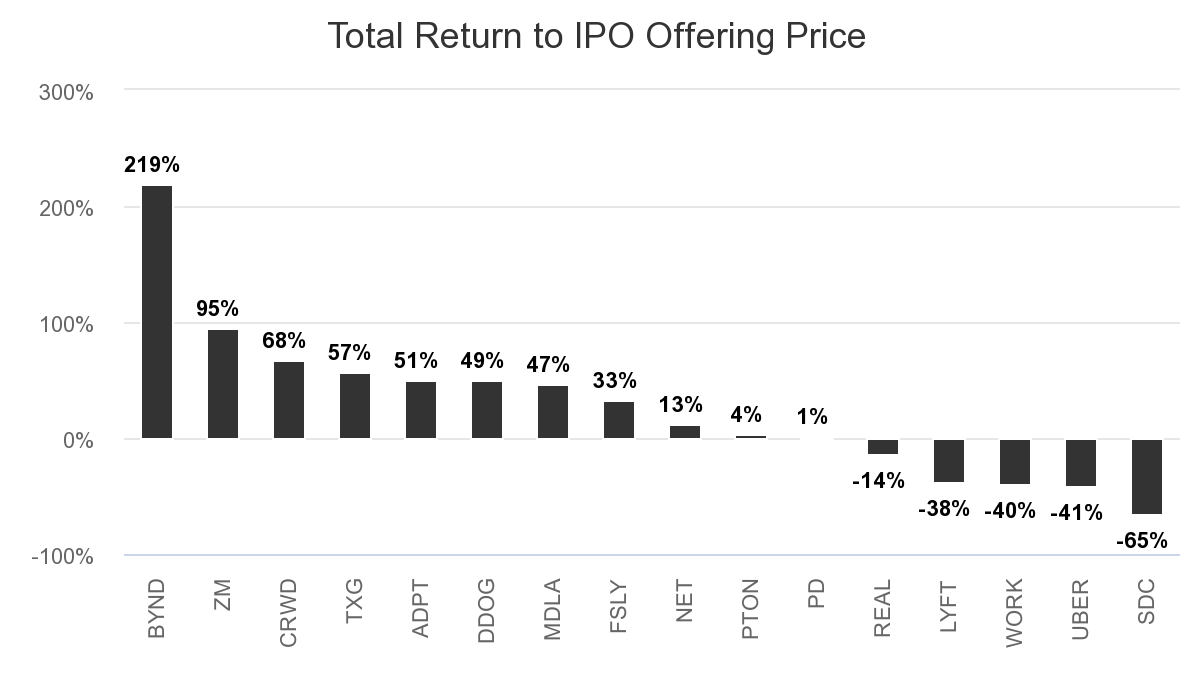 Source: YCharts as of 11/18/2019
Many in the investment community hoped this year would restart a robust IPO market. It has, unfortunately, turned into a learning opportunity for many startups. Several companies that long put off initial public offerings and garnered record setting valuations were met with criticism from the public. As public investors looked under the hood of many of this year's IPO candidates, they found it hard to prioritize topline growth over other missing fundamentals, like margins and corporate governance. The chart above illustrates how the public market has rewarded some prominent startups and punished others. Notably, tech darlings like Uber and Lyft, who were among the first highly-valued startups to go public this year, have struggled to convince investors of their story and financials, reflected in a stock price lower than their IPO offering prices. Conversely, Zoom and CrowdStrike, two lesser known tech companies, have proven that margins and a proven business model are prized by public investors. Using 2019 IPO companies, four "lessons" are apparent and will likely be important to public investors in future IPOs.
Margins Matter
A fundamental valuation methodology used by investment professionals is public company comparables. This valuation technique compares the company in question's financial metrics to others operating in the same or similar sector. The theory boils down to the following: companies with similar characteristics should trade at similar multiples. Therefore, public investors focus on startups' operating metrics, such as gross revenue, EBITDA and profit margin, to see how efficiently and effectively they are run. Better metrics unsurprisingly are expected to translate into a higher valuation.
However, for some high-profile startups, the modus operandi has been growth at all costs. This strategy has proved fruitful in the private markets – in paper gains – and fueled many startups to billion-dollar-plus valuations and global corporate titan status. In their pursuit to attain market leader status though, many startups have lost sight of their bottom line. As Uber has shown, investors aren't willing to subsidize losses forever. Furthermore, other financial metrics, like gross and operating profit and sales and marketing efficiency, are important as well. These metrics point to how a company is growing and if their business model is sustainable.
As a result, these metrics will likely move from the back seat to the front as private startups evaluate going public in 2020. Some startups may choose to slow growth and focus on creating a sustainable, profit-generating business model.
Tech-Enabled ≠ Tech Multiple
For some recently-public companies, the definition of a tech startup has been muddied. The word "startup" quickly became synonymous with any company that received venture capital funding. However, a company should only be considered a tech startup if they are in the business of providing technology products and services (e.g., cloud computing services, security products and workplace tools).
Furthermore, a tech-enabled company doesn't equate to a tech company. Many companies use technology to grow and be more efficient, but, inherently, their businesses are rooted in another primary sector. A prime example of this clash is WeWork. The co-working startup used technology to reduce build times and design more efficient workspaces, but it still belonged squarely in the real estate space.
Therefore, startups may have to contend with valuations derived from their sector multiples and not high-growth tech.
SaaS for Success
Marrying the two previous points, software-as-a-service (SaaS) has piqued investor interest. Most SaaS companies typically follow the same blueprint – asset-light business model focused on R&D and sales and marketing expenses to advance the product and grow topline revenue. As a result, investors are easily able to gauge the health of SaaS companies by comparing their financial metrics. Additionally, by having an asset-light business model, investors can take comfort in lower capital outflows and the ability to scale back or increase expenses to react to market, sector, and macroeconomic events. Typical metrics used to assess the value of a SaaS business include revenue per employee, sales efficiency, and gross and operating margin.
As the chart above shows, 2019's SaaS startup IPOs have largely traded above their offering price, exemplified by Zoom, Fastly, and Datadog
Corporate Governance
An increasing point of criticism directed towards startups has been the lack of certain corporate governance practices. High profile blunders, cultural breakdowns, and lack of oversight have eroded consumer trust in many startups and founders. Investors have taken note of these misgivings and have pushed for stronger corporate governance practices as a bulwark against these problems.
This shift can most meaningfully be seen in changes to dual class voting structures and independent board directors.
Founders were typically given a separate common stock class that had superior voting rights, in order to maintain their control of the future of the company. The argument went that founders had built the company and would know what's best for the company, shielding them from making destructive short-term decisions to appeal to Wall Street analysts. An appetite for dual class voting structures, though, has waned; investors are more wary of founders and want more say in the decisions and long-term strategy of the company.
Additionally, investors want more independent directors to provide reality checks to founders and early investors. Independent directors are meant to be watchdogs, maintaining and pushing for good governance. In cases where there are disagreements among board members or wrongdoings, independent board members are meant to help steer the board to a decision and oversee independent investigations.
These lessons have already begun to trickle into the private and public markets. SoftBank is reportedly scaling back its risk tolerance and focusing on improving corporate governance at its portfolio companies. Airbnb, which was expected to IPO this year, has reportedly delayed its IPO into 2020, reflecting the general deteriorating market sentiment and the need to properly time an IPO to show a strong financial picture. Ultimately, these lessons will have the largest effect on startups' raising capital in this environment, as VC firms prioritize them over topline revenue growth.