Virgin Galactic Eschews Traditional IPO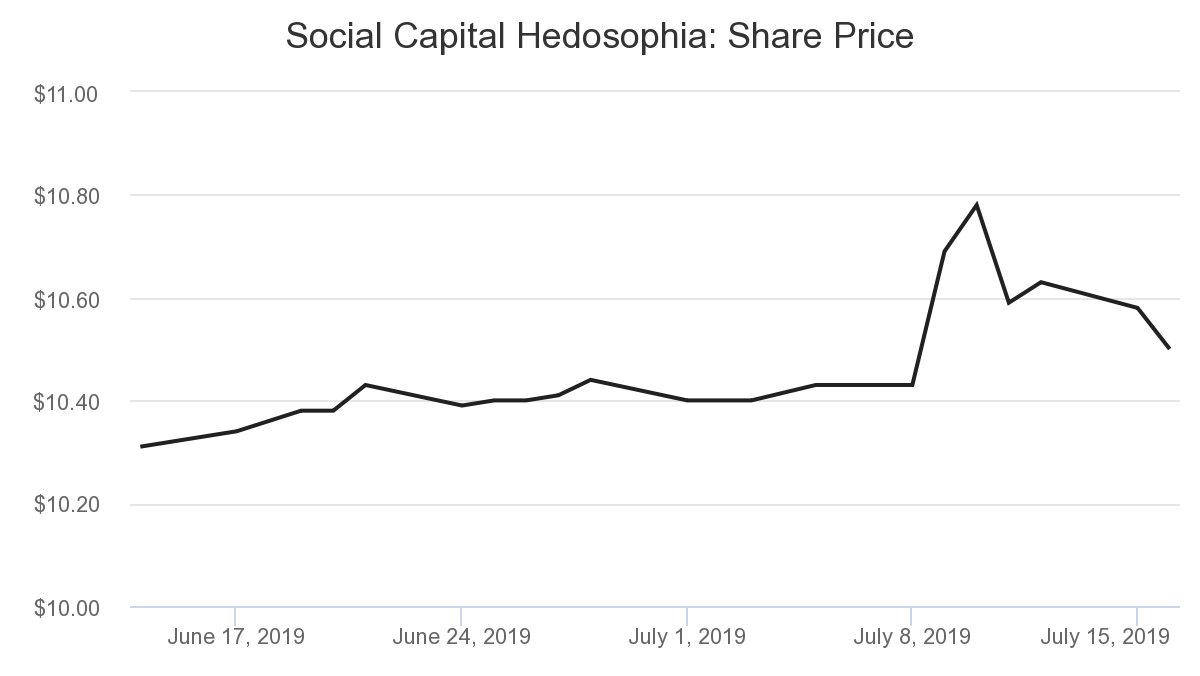 Source: YCharts as of 7/16/2019
On July 9, Virgin Galactic founder Sir Richard Branson announced that his space tourism company would be merging with Social Capital Hedosophia, a publicly-traded special purpose acquisition company (SPAC), that would also be making an $800 million investment in Virgin for a 49% stake. The reverse merger would also have the effect of making Virgin Galactic the first publicly listed human-spaceflight company (and would also allow it to avoid a traditional IPO process). According to Social Capital, the publicly traded Virgin Galactic will have a market capitalization of approximately $2 billion and $500 million of cash on hand. Cash will be critical for Virgin, as the company has yet to launch any human beings into space. While some money-losing companies have experienced a warm reception by the IPO markets, a company that doesn't have any meaningful revenue is quite another reality for Wall Street to swallow.
The speculative nature of this endeavor notwithstanding, the mechanics by which Virgin is set to go public are also noteworthy. On the heels of Slack's direct listing, Virgin Galactic's intended transition into a public company via a SPAC reflects the growing momentum behind avoiding the traditional IPO process. A SPAC, or a special purpose acquisition company, is a shell company formed to raise capital in an IPO with the objective of acquiring other unidentified businesses or assets using such IPO proceeds in the future. Once the SPAC-sponsored acquisition takes place, shareholders in the SPAC are given commensurate equity ownership in the newly acquired company. However, if an acquisition is not completed within a specified period of time, the SPAC is dissolved, and the IPO capital is returned to the investors.
In Social Capital's case, the shell company raised $700 million from investors in 2017, and its merger with Virgin Galactic will be its first investment. Social Capital found the Virgin investment just in time—if it had failed to find a target by September, it would have had to return the $700 million to its investors. While the use of SPACs fell swiftly after the mortgage crisis and subsequent recession, the recent growth of excess capital has fueled a return of SPACs, as investors look to deploy vast amounts of capital in M&A opportunities. For reference, more SPACs like Social Capital went public last year than in any year since 2007. In its acquisition, Social Capital plans to pay $300 million to Virgin Galactic's current shareholders—the Virgin Group and Abu Dhabi's Mubadala Investment Company—while the balance of the $700 million will go to the newly-public company's balance sheet (with an additional $100 million to come from Social Capital's founder, Chamath Palihapitiya).
What's the benefit of a "SPAC-sponsored" IPO? A short paragraph on this subject won't do it justice, but a potential benefit of such a process includes lowering the disclosure burdens of a traditional IPO. A traditional IPO takes a lot of time—typically, IPOs are planned over the course of months if not years, and companies looking to go public are forced to dedicate significant resources and headcount to make the necessary disclosures mandated by the SEC. However, through its merger with Social Capital, Virgin Galactic will avoid disclosing years of financial data that would be required by a Form S-1. Additionally, an IPO via SPAC allows companies to ignore the "IPO window" concept, or the idea that the public markets have to be in a steady and receptive condition to accept a new IPO. In 2019 thus far, events out of the control of investors, including a government shutdown and trade disputes between the U.S. and China rattled the public equities markets, potentially dissuading certain IPO candidates from going public. Because SPACs raise the capital upfront in their own IPO, a potential SPAC acquisition target doesn't have to worry that the capital won't show up in case the markets get choppy.
Despite some potential benefits, SPACs may also carry certain risks for investors. For example, according to an analysis from the University of Florida, SPACs underperformed the broader market by about 3% annually in the first three years after their respective IPOs in the period from 2010 to 2017. Nevertheless, SPACs continue to grow in popularity as entities like Social Capital seek to establish an alternative to traditional IPOs, competing with the direct listings we've seen from Slack and Spotify.