Amid Climate Change Alarm Bells, Where is GreenTech Today?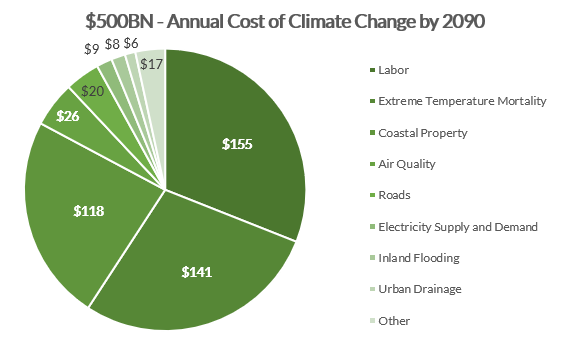 Source: Fourth National Climate Assessment
The alarm bells are ringing, according to environmental scientists, the U.S. government, and the United Nations. Events in 2018 and 2019 are adding to mounting evidence that devastating effects of climate change on the planet are here (for example, see the tragic wildfires in California among other catastrophes). This year started with scientists reporting that oceans are heating up "40% faster on average than a United Nations panel estimated five years ago." A report by the U.S. government called the "Fourth National Climate Assessment" expounds on the economic costs of climate change in the U.S., which it estimates will reach $500B annually by 2090, or about 2.5% of the U.S. GDP at the end of 2017 (a separate report by The New Climate Economy estimated that weather- and climate-related hazards caused $320B in losses in 2017). More recently, a working paper by the National Bureau of Economic Research warned that climate change could result in a 7.2% cut to GDP per capita worldwide and a 10.5% cut in real income for the U.S. by 2100. With more human and economic devastation on its way, where do we go from here?
Many low-carbon energy sources have been available for decades—namely, solar, geothermal and wind—so we wanted dive into some of the cutting-edge green technologies being funded today that complement and build on the green energy mix. While we hear daily about newly-minted unicorns snagging hundreds of millions of dollars to fix societal inefficiencies and pain points, including last mile logistics, cloud computing and co-working solutions, among others, we rarely hear about environmentally-focused startups in the same vein.
We decided to explore startups focused on mitigating the effects of climate change. Below are some companies whose technologies are solving for a variety of carbon-capturing or -cutting problems:
Carbon Engineering: A clean energy company seeking to commercialize direct air capture of carbon dioxide (CO2) and use its proprietary Air to Fuels technology to turn CO2 into liquid fuel.
Freight Farms: Modifies shipping containers to create year-round agriculture in any environment. The company claims its containers can harvest up to 150 lbs. of produce a week.
Ensyn: Produces a biocrude from forest and agricultural residues using its proprietary thermal technology. The company is expanding its commercialization of heating and cooling fuels and production of low carbon feedstocks for petroleum refineries.
Carbon capture, as the name implies, is the technology used to capture CO2 emissions, produced from the use of fossil fuels, as well as the transportation and storage of CO2. In October 2018, the United Nations scientific panel concluded that carbon capture was critical in keeping global temperatures below levels that would significantly impact the well-being of the planet. As many have noted, however, high costs have so far prevented the large-scale roll-out of the technology. Carbon Engineering and other startups hope to change this.
Other startups like Freight Farms are looking to more efficiently farm produce and in areas that cannot support farming. These startups are advancing hydroponics and higher productivity methods as climate change shifts suitable, farmable land. While the Fourth National Climate Assessment caveats that "distribution of vegetation and land cover is highly complex, driven not only by changes in climate, but also land use-changes, [and] shifts in disturbance regimes," among other things, the Assessment notes that climate change has "the potential to adversely impact agricultural productivity at local, regional and continental scales." Startups are seeking to counteract land degradation by providing ways to increase agricultural productivity, reduce land clearing for production and thereby reduce CO2 emissions.
Bioenergy has been a sector of focus for those advocating more incremental carbon-cutting solutions, and has been billed as contributing to a more secure, sustainable and economically-sound future by the U.S. Department of Energy. Startups like Ensyn are finding ways to use by-products of manufacturing and harvesting processes, which historically have been viewed as waste, as a fuel in a low-carbon process, balancing land-use with the effects on the overall system. An added benefit of bioenergy, as indicated by the U.S. government report, includes the additional income stream potential for rural communities.
Green tech startups unfortunately do not garner the same attention as the likes of Bird and Stripe as has been made evident in startup funding patterns. According to Crunchbase data, U.S.-based environmentally-focused startups have raised a median of three rounds, with a last round median of $11 million and a total equity financing median of $25 million. This compares to median deal sizes for expansion and later stages of $20 million and $37.5 million, respectively, in Q4 2018 (Venture Capital Funding Report 2018).
Although green tech startups tend to raise less money, the $500 billion figure cited by the U.S. government implies investors should all be taking a closer look at this sector. We hope this sector gains more prominence and funding as we struggle to mitigate the effects of climate change.