2019 IPO Health Check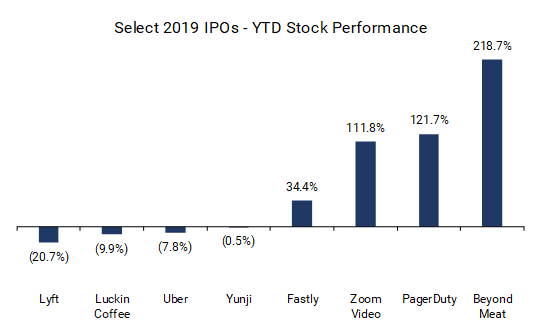 Source: YCharts as of closing price on 5/24/2019; public securities filings
Note: YTD Stock Performance and analysis below based on 5/24/2019 closing price and IPO price for each company
Post-IPO trading in Lyft and Uber has dominated the public discourse concerning the health of the IPO market in 2019. Both companies were among the most highly-anticipated public debuts in recent memory, and both have unfortunately disappointed their public investors by trading below their IPO prices. Lyft, which went public on March 29, is down nearly 21% from its IPO price of $72 per share. Similarly, Uber's IPO price of $45 per share has fallen nearly 8% since its May 10 public offering. With the fall in share price, Lyft and Uber have seen their price-to-sales (P/S) multiples fall from over 10x to approximately 7.7x and 6.1x, respectively. Despite better-than-expected revenue performance in Q1 2019 from Lyft, its share price has stayed below $60 per share since announcing Q1 performance, indicating that investors are still spooked by Lyft's significant losses.
We Know Lyft and Uber Have Struggled—What About Everyone Else?
As the largest IPOs of the year thus far, it's no surprise that Lyft and Uber have been disproportionately on the minds of investors. However, investors should maintain a fair perspective on the IPO market—sure, the two largest IPOs of the year have struggled out of the gate, but a number of other companies are having stellar public debuts. In fact, according to Renaissance Capital, US IPOs are up over 31% so far in 2019, compared to only 13.7% for the S&P 500. Above, we've displayed the YTD share price performance of eight widely-covered IPOs in 2019, and while half are in the red, the other half are demonstrating exceptional performance. What's more, if you invested one dollar in each of these companies, you would be up nearly 56% YTD overall, Uber and Lyft woes notwithstanding. Plant-based "meat" maker Beyond Meat, which debuted in early May at $25 per share, has seen its stock rocket to over $79 per share in the last month, an increase of 219%. SaaS companies Zoom Video and PagerDuty have also seen astronomical share price gains at 112% and 122%, respectively. Finally, Fastly, a cloud computing services provider, has seen its share price increase by over 34%, far below the performances of Zoom Video, PagerDuty and Beyond Meat, but impressive in and of itself.
What Explains the IPO Haves and Have Notes?
This topic warrants a separate and much longer newsletter, but we can note at least a couple observations that should inform our view of this year's IPOs. Firstly, among these eight companies, only one was profitable in 2018—Zoom Video Communications, which brought in approximately $6 million of operating income on $270 million of revenue. Beyond Zoom, 2018 operating margins range from negative 191% (Luckin Coffee) to nearly break-even (Yunji) and are negative 43% on average for this cohort of companies. Even high performers such as Beyond Meat, Pager Duty and Fastly continue to lose significant amounts of money, with negative operating margins of 30%, 36%, and 20%, respectively. These negative operating margins do not differ too dramatically from Uber (negative 25%) and Lyft (negative 45%), so there must be more to this discrepancy than just how much money these companies are losing.
At least part of the story involves company sectors—Fastly and PagerDuty, while they are both losing money, can be characterized as enterprise software businesses. Unlike Lyft and Uber, which are the first public companies in the ridesharing space, investors are used to and understand enterprise software, and the road to profitability is perceived to be much clearer in this sector. This contrasts starkly with ridesharing, whose unit economics have been called into question as the industry pours billions of dollars into driver and rider incentives and referrals in order to compete. In the case of Beyond Meat versus Luckin Coffee, both of which provide palatable, consumer products, one is in a price war against Starbucks, utilizing heavy discounts to gain market share, while the other is creating a plant-based "meat" product that many investors believe has the potential to significantly disrupt the commercial meat industry. In a way, Lyft, Uber and Luckin Coffee are similar to the extent that the barriers to entry in their respective sectors are relatively low, and market share is gained or lost on the basis of how many and how efficiently discounts are utilized. Investors, however, aren't buying this strategy at the moment.
Other items we're reading this week: