Lyft
2019 IPO
Airbnb
IPOs
New IPOs
...show more tags
Adam Augusiak-Boro November 15, 2018
As the bull market charged into its ninth year in 2018, with the FAANG tech giants (Facebook, Apple, Amazon, Netflix and Alphabet's Google) leading U.S. equities markets to record highs, many of us thought we would have seen stronger IPO activity. However, with under two months left of 2018 and despite favorable market conditions, this year's U.S. IPO count is still nearly 100 IPOs lower than 2014's total of
275
priced IPOs. At EquityZen, we continue to believe that IPO volume will remain subdued compared to prior bull markets given the secular trends we see in the U.S. capital markets.
Our team at EquityZen took a closer look at the companies we believe are primed to go public in 2019. To read our full 2019 IPO Outlook, please click
here
.
Read more...
Lyft
Path to IPO
Venture Capital
Phil Haslett March 19, 2015
On the heels of
Lyft's recent $530 million financing from Rakuten
, we've put together the history of Lyft's fundraising and valuation.
Uber's fast-growing competitor is now valued at $2.5 billion, which still puts it in the shadow of Uber (currently valued north of $40 billion), but perhaps offers its investors a nice value proposition? Nonetheless, a half-billion dollar war chest should help Lyft expand into other markets domestically and internationally.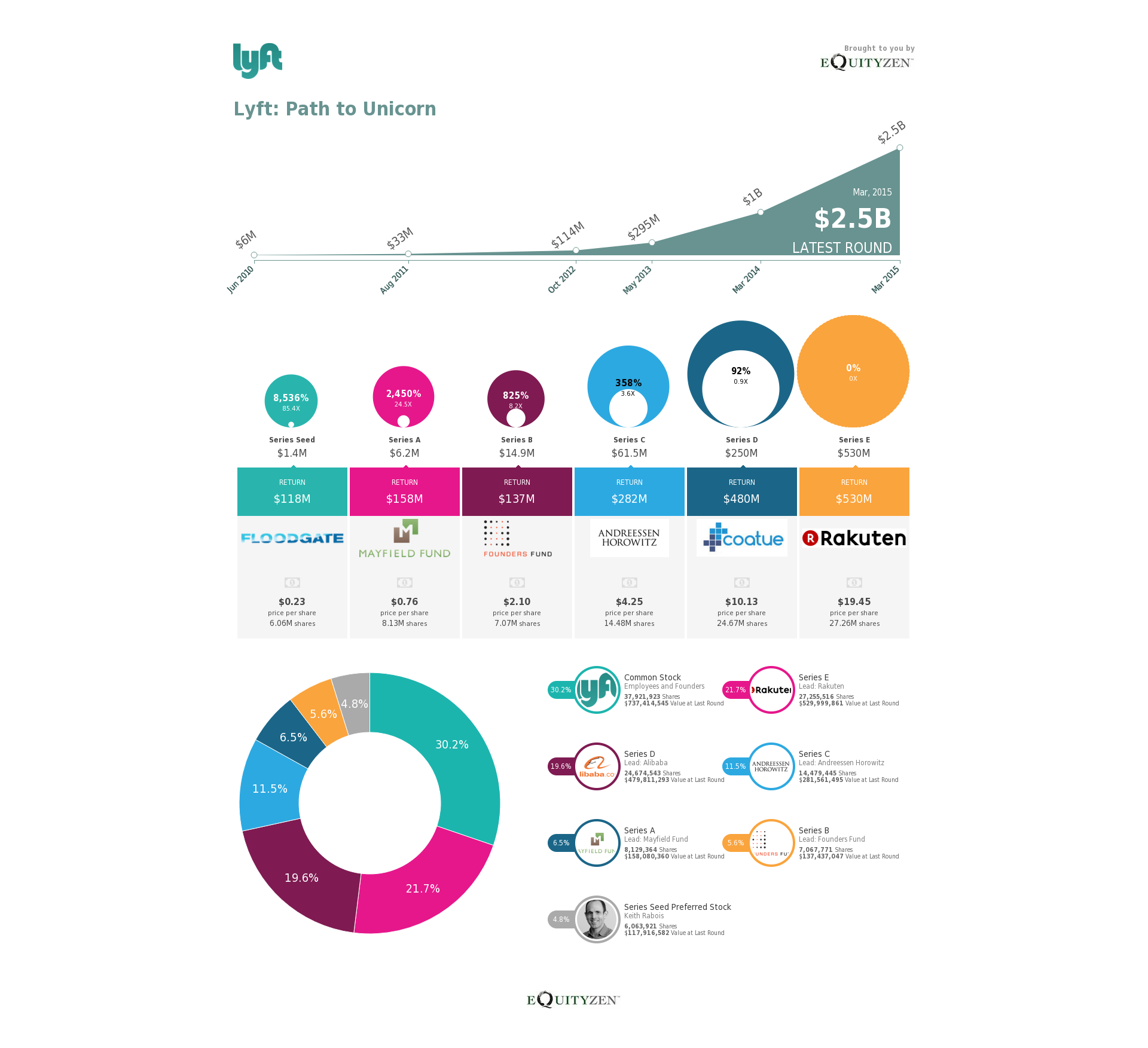 A few hot topics:
What on earth is Lyft going to do with $530 million?
Lyft hints at
three main initiatives on its blog
:
Expanding its U.S. footprint, from the current 65 markets they're already in
Emphasizing the peer-to-peer car-sharing experience, in a casual way that compares it more to Europe's BlaBlaCar than Uber
Improving Lyft Line, the company's low-cost offering that algorithmically matches up multiple riders
This is embarrassing, but.....who is Rakuten?
Oh, just this little e-commerce company in Japan with 12,000 employees and over $5 billion in annual sales. Rakuten has been on a spending spree of late,
acquiring online coupon site Ebates for $1 billion in 2014
, amongst other U.S. and international investments. It would be easy to conclude that this investment suggests Lyft will start offering its services internationally; however, the 2014 round was led by Alibaba, and we've yet to see "lyftoff" in China. Stay tuned.

Are the employees and founders going to make money?

Time will tell, but the Common Stock shareholders (primarily founders, employees, advisors, and contractors) still own over 30% of the company.
Read more...