Why Pre-IPO Liquidity is Important for Employees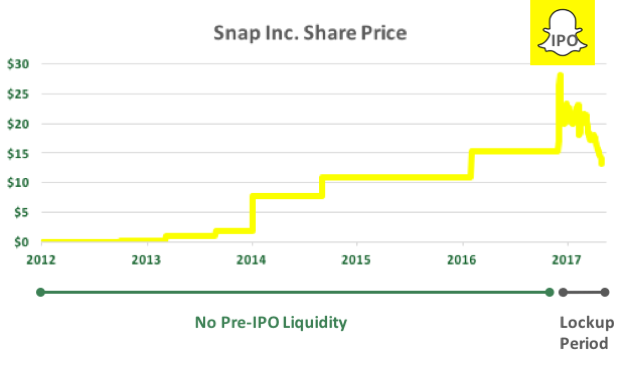 Asa Lieberman
May 17th, 2018
When Snap Inc. (SNAP) went public in March 2017, the company was valued at over
$23B
, or $17 per share. While early shareholders watched the stock price quickly rise to a high of $29, they were unable to realize these gains until the
IPO Lockup Period
expired. For most, those gains slipped away due to
poor earnings
and
increased competition
, which caused SNAP to slide below $14 over the course of the 180-day lockup.
An exit event, such as an IPO or acquisition, means access to liquidity for early investors—owners of ~23% of Snap at the time of IPO—who have been waiting upwards of 5-10 years to reap the rewards of their commitment. However, another important constituency—the company's employees—is faced with a financial false-start, having to wait yet another stretch of time to have finally get the liquidity for their
stock-based compensation
. In this post, we'll look at why pre-IPO secondaries provide a smart solution for both early employees and the companies that the shares relate to.
The majority-minority: employee ownership
Startups rely heavily on equity compensation to align incentives between employees and the company. Typically,
Equity Incentive Plans
will be structured to provide some mix of Restricted Stock Units (RSUs), which vest over time, and Incentive Stock Options (ISOs), which allow employees to purchase shares for a predetermined price.
Continuing our Snap example: over 200 million shares and options were set aside through Snap's Equity Incentive Plans for roughly 1,900 Snap Employees. Some quick arithmetic reveals that employees own somewhere between 16% – 20% of the company, depending on the number of shares vested and options exercised. This proportion of employee ownership is in line with industry standards, as venture capitalists typically push for 10 – 20% of equity to be set aside in an employee option pool when funding private companies.
Equity Incentive Plans (aka how Silicon Valley retains talent)
Though seemingly an eternity ago, Snap once boasted the highest value per employee among tech companies, as
highlighted by Forbes
. Remarkably, Snap was able to boast a $16B market cap with just slightly greater than 300 employees. For reference, Snap now has nearly 10x the employees… and a lower market cap (13.5B as of 5.16.18 according to Yahoo! Finance).
(Source: LinkedIn, Company Filings, Yahoo! Finance)
Snap also famously developed a reputation for
offering generous equity incentives
to attract top talent. During 2016, the company granted 104 million Class A shares to employees at an average fair value of $15.87. However, it is likely only a handful of early employees were able to realize million dollar gains when their shares became liquid in the 2017 IPO, due to the structure of the company's Equity Incentive plans.
The majority of equity compensation offered to Snap's employees was in the form of RSUs, which follow a 10-20-30-40 vesting schedule, meaning that the 1,859 employees hired in 2016 will likely only have vested 10% of their equity. Those employees, while potentially discouraged by the decline in stock price since IPO, will be incentivized to stick around until the remainder of their equity vests and the share price rises again.
In the Snap example and in general, earlier employees who have vested a greater portion of their RSUs are granted their first opportunity to sell with an IPO, and as such, are a greater concern for the company's performance going forward. While sophisticated investors may be able to take long time horizons for an investment to pay off, employees are more likely to delay significant life events until their equity becomes liquid. As a result, early employees are the shareholders who are most likely to want to take money off the table, even if they may be reluctant at a depressed share price.
How secondaries save the day
If equity compensation is intended to incentivize top talent, Snap may be guilty of indulging in
too much of a good thing
. According to an article published in Harvard Business Review, there is such a thing and over-exposure to one company's equity can hamper performance.
Secondaries, particularly in pre-IPO companies, create liquidity in private markets, which in turn allows early employees to convert some of their holdings to cash, alleviating financial pressures and enabling them to focus on the company's goals. Depending on demand, Snap shares vested in 2016 would likely sell nearer to the $15.36 price paid by investors in May 2016, a ~15% premium above the post-lock-up stock price before taking into consideration the time value of money (not to mention an even more significant premium against the ~$10 share price now in May 2018).
Though largely dependent on a company's vesting schedule, it is generally safe to assume that the largest portion of equity available for sale will be held by early employees, many (if not all) of whom are the most senior staff. An IPO represents the first opportunity for many of those employees to liquidate their holdings, and the volume that reaches the market is an important signal for investors evaluating the longevity of a given company. Pre-IPO secondaries solve the issue two-fold: early employees can lock in the value of their equity grants before a massive, highly-volatile banner event, and companies can be relieved of the pressure that early employee sell-offs might cause.
As always, check out other posts on our EZ Meditations Blog to learn more about the private markets, employee equity, and more. Special thanks to Charlie Joyce for much of the research used in this piece.