EquityZen Growth Opportunity Fund V LLC - Series 1 Stock
Exposure to 15-25 pre-IPO companies with 1 investment
About EquityZen Growth Opportunity Fund V LLC - Series 1 Stock
Diversified exposure to 15-25 pre-IPO companies from $1,000 per company1
Tap into the $500B high growth pre-IPO asset class1 with 1 investment2
We are currently accepting investments into the 2nd close.
WEBINAR REPLAY: On April 18, 2019, we hosted a webinar about EquityZen Growth Opportunity Fund V LLC and discussed its strategy, structure, and EquityZen's prior managed funds. Click here to view the recording of the webinar.
EquityZen Growth Opportunity Fund V LLC - Series 1 ("Series 1") and EquityZen Growth Opportunity Fund V LLC - Series 2 ("Series 2") together the "Fund Series"
The investment objective of the Fund Series is to achieve an attractive return on invested capital by investing in Fund Investments, which will consist primarily of equity interests in late stage private companies that are backed by established venture capital firms.
The Fund Series is EquityZen's fifth launch of managed funds
There is no term sheet for the Fund Series - completed investment paperwork is a binding commitment to subscribe to the Fund Series.
The $10,000 reduced minimum for first investments and other terms for single-company offerings do not apply for the Fund Series.
Prospective purchasers will be subject to different minimum investment requirements depending on their status and eligibility to invest in either Series 1 or Series 2.
Minimum Investment Summary

To be eligible, all investors must be "accredited investors," as such term is defined in Regulation D under the Securities Act, and have sufficient knowledge and experience in financial and business matters and the capability to conduct their own due diligence evaluation in connection with their potential investment. To invest in Series 2, investors must be accredited investors and also meet separate criteria to be classified as "qualified purchasers", as such term is defined in the Investment Company Act of 1940, as amended.
Target Company Profile:
Technology sector
> $50M+ in Venture Capital funding from top-quartile firms
A recent valuation > $500M
A recent financing round within the last 12 months and/or that can be purchased at a discount or as part of a primary round
Exit time horizon of 1 to 4 years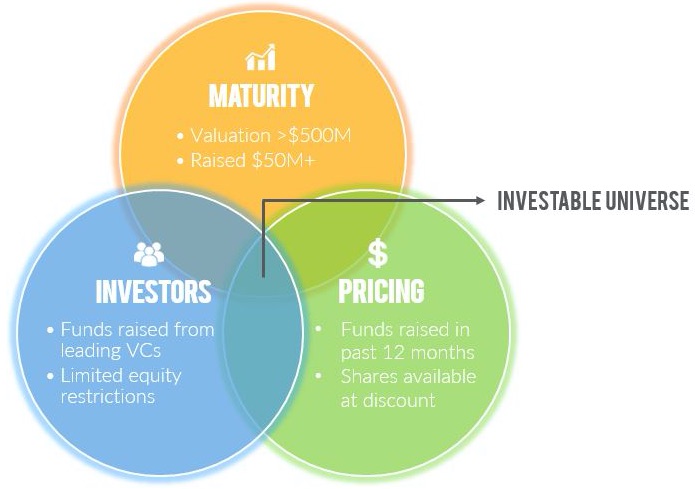 Who should consider a managed fund investment?
If you believe in the power of the EquityZen platform for sourcing strong deal flow and you believe in the pre-IPO asset class, but you are not comfortable or otherwise do not want to select single names for investment, you should consider a managed fund investment. The Fund Series investment committee will select all investments, which are a curated subset of what comes across the EquityZen platform.
If you would like your investment to give you diversified exposure to the pre-IPO asset class, but can't commit to multiple investments of $20,000, you should consider a managed fund. You will get investment exposure to 15-25 pre-IPO companies that are carefully selected by the Fund Series investment committee.

An investment in the Fund Series will involve risks not associated with other investment alternatives. Although the Manager may seek to reduce the risks associated with the Fund Investments, prospective investors should carefully consider, among other factors, the risks described below. Such risk factors are not meant to be an exhaustive listing of all potential risks associated with an investment in the Fund Series. There can be no assurance that the Fund Series' investment objective will be achieved, or that there will be any return of capital. Interests are potentially suitable investments only for sophisticated investors for whom an investment in the Fund Series does not represent a complete investment program and who, in consultation with their own investment and tax advisors, fully understand and are capable of assuming the risks of an investment in the Interests, including the risk of losing all of their invested capital.
We reserve the right to accept or decline subscriptions for any reason, in our own discretion, including on the basis of commitment size, in light of heightened investor interest in the Fund Series and limited availability of remaining allocations.
Companies are staying private for longer
Value creation in technology-enabled companies is increasingly occurring in the private markets. In 2004, companies typically went public after 4 years, today the average company IPOs after 10+ years.

Until recently, access to this asset class has been limited to large institutions.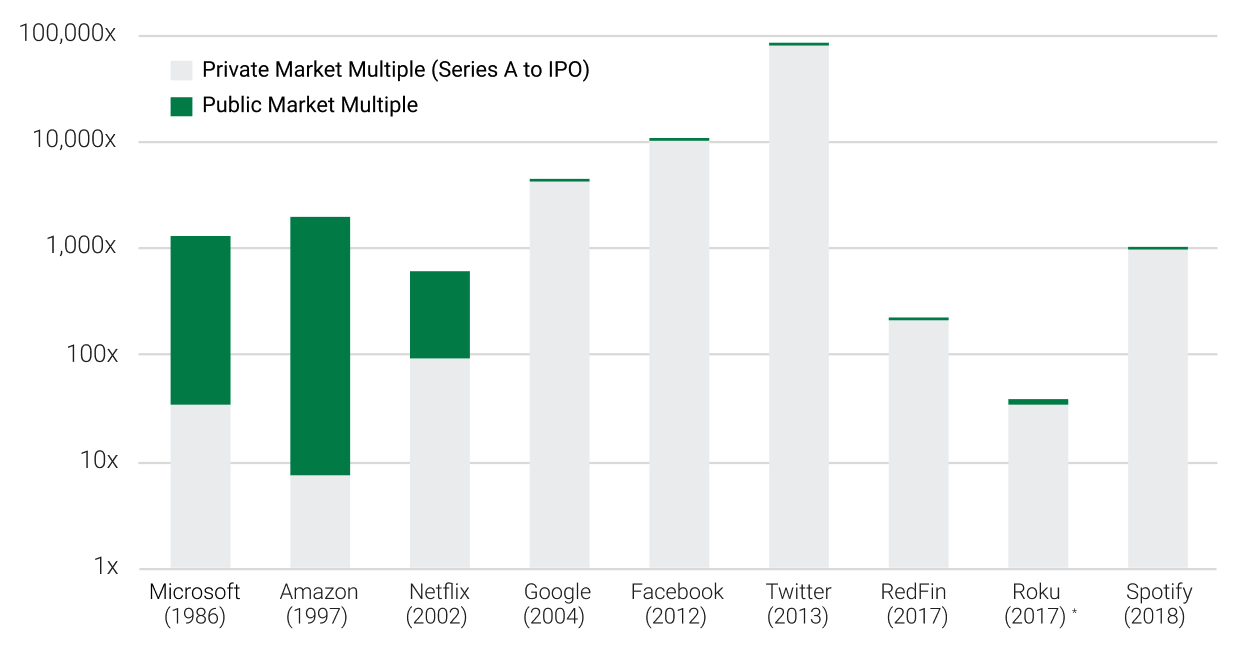 Source: EquityZen, March 2019
The graph above displays how value creation from 1986 through 2018 has shifted from the public markets (green) to the private markets (gray). Roku's private valuation multiple based on Series B to IPO.
Companies shown may not be actual portfolio investments of any EquityZen managed fund.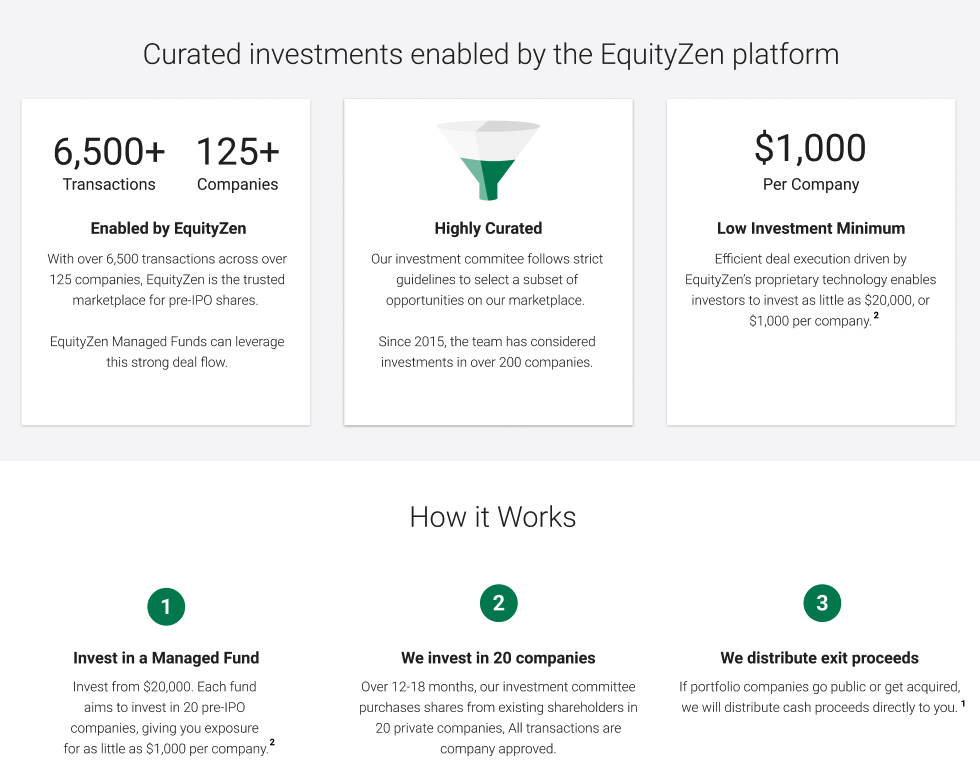 ---
1. Past performance is not indicative of future returns. Not all pre-IPO companies will go public or get acquired, and not all IPOs or acquisitions will result in successful investments. There are inherent risks in pre-IPO investments, including the risk of loss of the entire investment, illiquidity, and fluctuations in value and returns. Nothing set forth here shall constitute an offer to sell any securities or a solicitation of an offer to purchase securities in any jurisdiction. Any offer to sell or solicitation of an offer to purchase shall be made only to qualified investors through a private placement memorandum and associated offering documents ("Offering Documents"). The specific terms of an investment are subject to the Offering Documents, which will contain additional information not set forth here, including a description of certain risks of investing, which will be material to any qualified investors decision to invest.
Securities offered through EquityZen Securities LLC, member FINRA/SIPC.
2. EquityZen's managed funds target making investments in approximately 20 companies. $1,000 per company is based on equal allocations to 20 companies from a $20,000 investment. There are a limited number of $20,000 slots available at the sole discretion of the manager, EquityZen Advisors LLC (the "Manager"). The Manager will serve as the managing member and investment adviser.
Funding History
| | |
| --- | --- |
| Growth Opportunity Fund IV (GOF IV) - 2018 | $0 |
| Growth Opportunity Fund III (GOF III) - 2017 | $0 |
| Growth Opportunity Fund II (GOF II) - 2016 | $0 |
| Late Stage Fund (LSF) - 2015 | $0 |
Management
Founder, CRO, Investment Committee
Phil Haslett
Dir. Investments, Investment Committee
Kaylock Yam
Founder, CEO, Investment Committee
Atish Davda
Senior Research Associate, Investment Committee
Adam Augusiak-Boro
Other Companies
EquityZen does not have an affiliation with, formal relationship with, or endorsement from EquityZen Growth Opportunity Fund V LLC - Series 1 or any companies feature above. This profile is based on publicly available information and is intended to be informative in nature.
Some data provided by Crunchbase