Buy or sell 500 Startups Opportunity Fund, L.P. stock pre IPO via an EquityZen fund
EquityZen is a marketplace for shares of proven pre IPO tech companies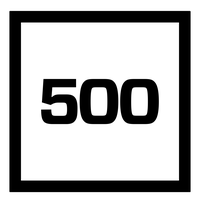 500 Startups Opportunity Fund, L.P. Stock
The 500 Startups Opportunity Fund proposes to selectively invest in the follow-on stages of what the General Partner believes to be the most promising companies in the 500 Startups family of funds
About 500 Startups Opportunity Fund, L.P. Stock
**Aman Verjee, Chief Operating Officer of 500 Startups and Partner of the 500 Opportunity Fund held a webinar exclusively for EquityZen investors. Request access to the replay.**
500 Startups is a leading global venture capital firm, focused on early stage technology companies across a wide variety of industries and geographies. 500 Startups aims to generate attractive and consistent investment returns by following a patient and disciplined investment approach, employing a world-class team, and creating value for its portfolio companies.
500 Startups has over $430M in committed capital across 4 main funds in the U.S. and 14 micro funds located around the globe. 500 has invested in over 2,000 technology startups all over the world since its inception in 2010, including: Twilio (NYSE: TWLO), SendGrid (NASDAQ: SEND), Credit Karma, Grab, Carousell, Udemy, Kudo (acquired by Grab), Talkdesk, Makerbot (acquired by Stratasys), Wildfire (acquired by Google), and Viki (acquired by Rakuten). A team of 100+ people manage investments across 60 countries and speak over 25 languages.¹
NOTICE: Example companies above are intended to be illustrative, and there is no guarantee that the 500 Startups Opportunity Fund, L.P. will invest in these specific companies.
EquityZen Growth Technology Fund LLC has an opportunity to acquire a limited partnership interest in 500 Startups Opportunity Fund, L.P. ("500 Opportunity Fund").
500 Opportunity Fund is a new offering from the 500 Startups family of funds that will focus on follow-on investments primarily in the 500 Startups family of funds' portfolio of companies.
The managing team and investment committee of 500 Opportunity Fund has operational experience at companies such as PayPal, Google, and YouTube.
The 500 Opportunity Fund proposes to capitalize on and leverage the experience and expertise gained through the 500 Startups funds by making follow-on investments primarily in portfolio companies of the 500 Startups funds. 500 Startups Funds typically have made many early-stage investments (which generally range from $25,000 to $500,000) in exchange for a minority interest. The 500 Opportunity Fund proposes to selectively make some follow-on investments into certain portfolio companies, based on the 500 Opportunity Fund's assessment of the relevant company's progress and continuing potential since the initial investment.²
Portfolio Holdings:
The general partner of the 500 Opportunity Fund will evaluate a number of criteria as part of its investment decision process. The following factors illustrate some, but not all, of the criteria that may be taken into consideration:
Team
Financials / Financing History
Product to Market Fit
Defensibility of Market Position and Ability to Monetize
Market size
IMPORTANT NOTES REGARDING ELIGIBILITY FOR THIS PROSPECTIVE OFFERING
Eligible investors must: i) meet the U.S. SEC's definitions of an Accredited Investor (as defined in Rule 501 of Regulation D of the Securities Act of 1933); and ii) agree to third-party verification of Accredited Investor status
1. Numbers approximated as of 6/30/18 across the 500 Startups group and investments made across all the 500 Startups' family of funds. A detailed list of such funds is available in the presentation linked below. Companies listed are a select sampling of investments across 500 Startups funds and will not be held by Opportunity Fund.
2. Represents the current investment model as at the date hereof and may vary at the discretion of the 500 Opportunity Fund's general partner.
Management
CEO & Founding Partner
Christine Tsai
Other Companies
EquityZen does not have an affiliation with, formal relationship with, or endorsement from 500 Startups Opportunity Fund, L.P. or any companies feature above. This profile is based on publicly available information and is intended to be informative in nature.