Redfin: A Strong Wall Street Debut
Robust demand for Redfin led to a strong debut in the public markets. The initial pricing guidance came in between $12-$14 per share, but due to strong demand the IPO finally priced at $15 per share. The strong demand was maintained once the shares were freely tradeable, the stock opened at a 30% premium at $19.56 per share, and recently closed at $25.84 per share as of Friday, August 4th.
---
Redfin Valuation While Private
(EquityZen facilitated deals in late 2016 during the "green" period)
Figure 1.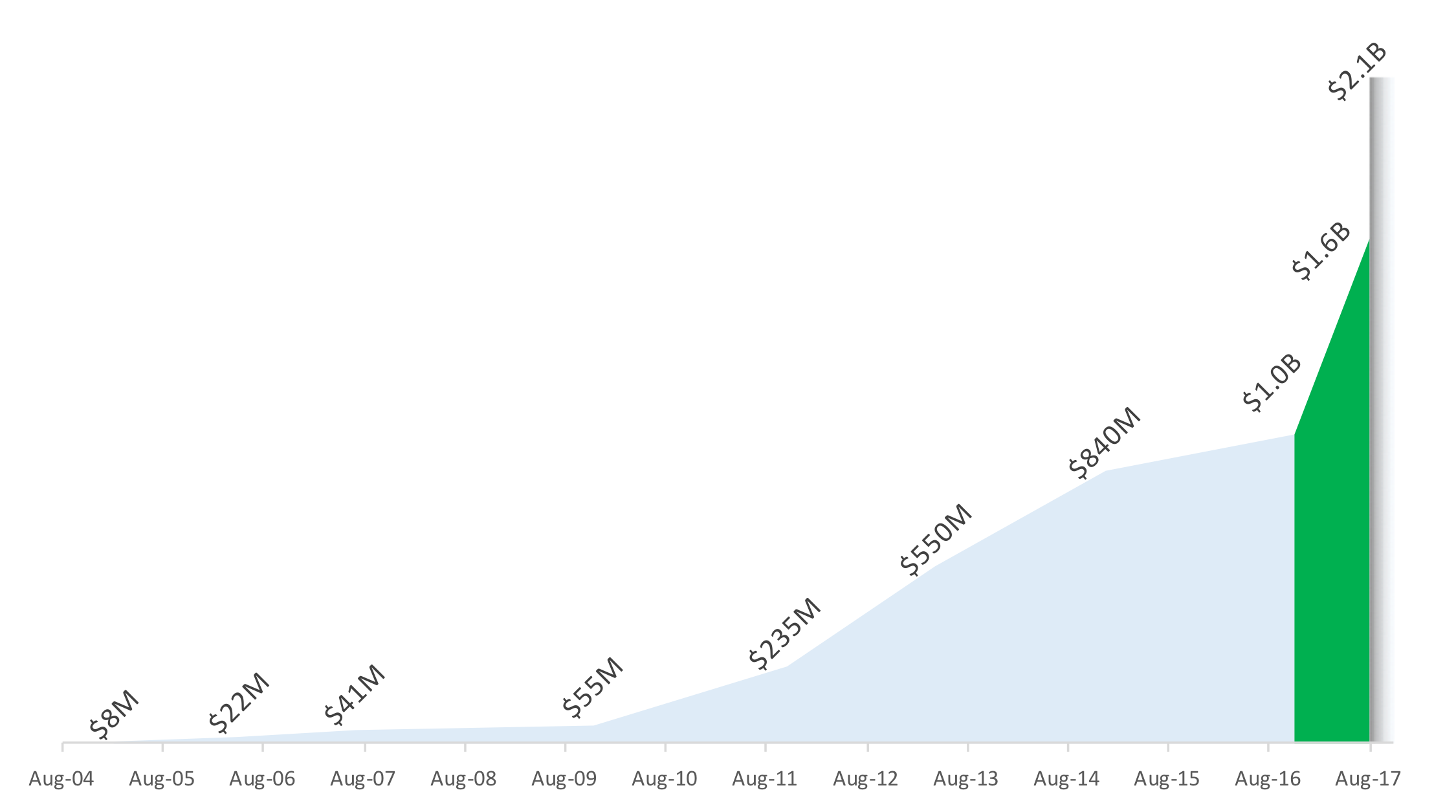 | | |
| --- | --- |
| June 30, 2017 | Redfin files its initial registration statement (S-1) with the SEC, signaling its intent to complete an IPO. |
| July 26, 2017 | Initial IPO pricing terms set; projected pricing range of $12-14/sh. |
| July 27, 2017 | Offering prices at $15/sh. |
| July 28, 2017 | IPO day; shares begin trading with a 30% "pop" at $19.56/sh. |
| August 4, 2017 | RDFN closes trading at $25.84/sh. |
A Novel Way to Participate in an IPO
Redfin's strong trading resulted in positive returns for investors in its initial days as a public company. For investors who participated only after RDFN began trading, however, these returns were constrained by not being able to invest before the IPO.
Indeed, the price most investors could access was not the $15 per share IPO price, as that price was generally only available to cornerstone institutional investors. Rather, the $19.56 per share, at which RDFN opened trading on IPO day, is the earliest price a public market investor could have purchased Redfin stock.
As of this writing, RDFN last closed at $25.84 per share, which represents a 32% return over the $19.56 per share open price. Even that return is theoretical, as it requires quick execution and some luck to invest right at the open.
EquityZen breaks this constraint by allowing accredited investors to access opportunities in companies like Redfin before they start trading publicly. In this case, EquityZen's platform enabled several investors to invest in Redfin before the IPO in late 2016 at a dollar-weighted average price of $12.00 per share.
As a result, EquityZen clients are able to mark on average a 115% return at the $25.84 per share today, over 3x in excess of public market investors who continue to hold their shares.
---
Performance of Redfin Investments Facilitated via EquityZen Platform
Figure 2.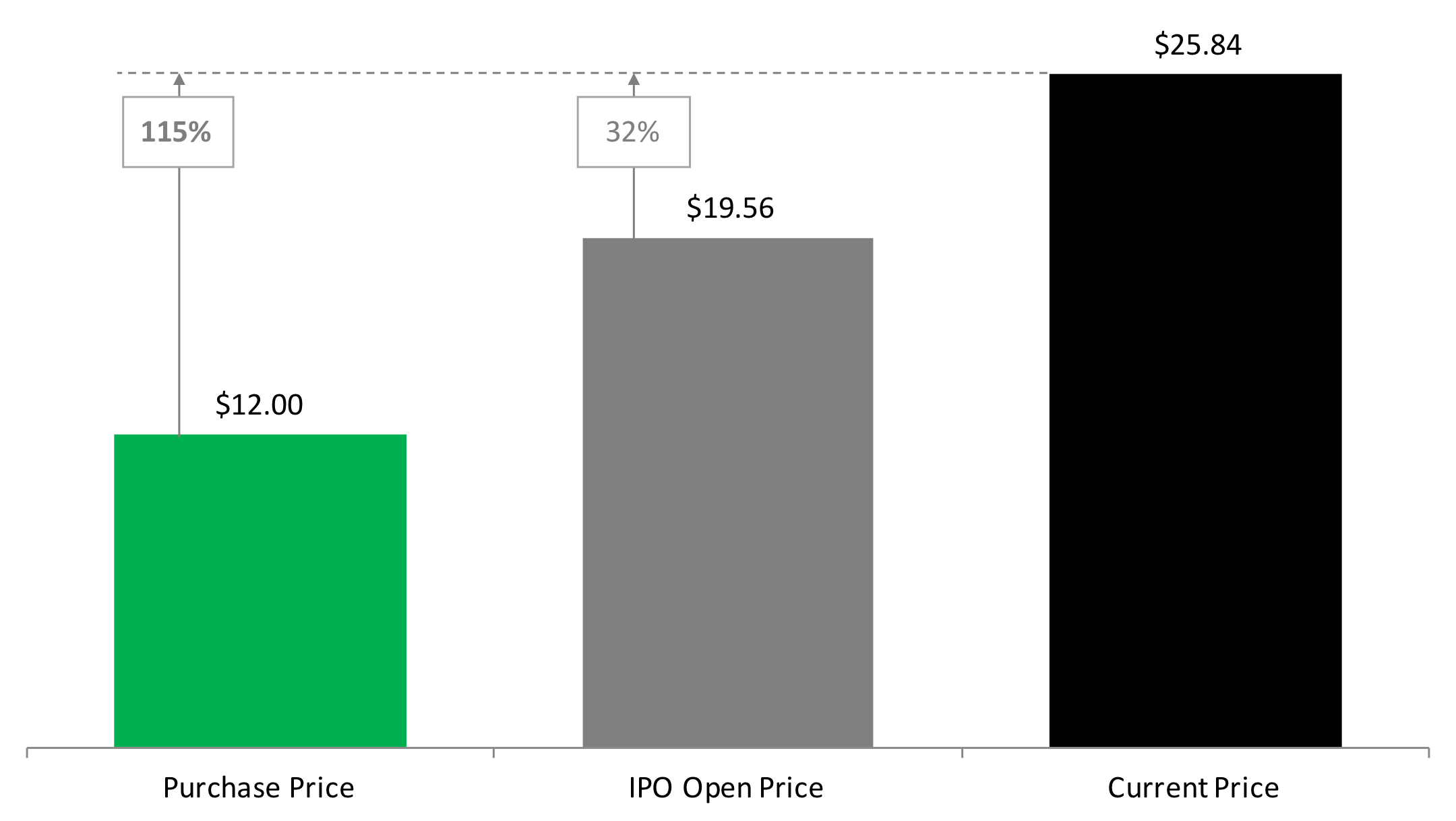 How EquityZen's Platform Works
EquityZen's platform works by matching private company shareholders (e.g. employees, VCs) with qualified investors (e.g. HNWIs, Financial Advisors, Family Offices, and Institutional Investors). Private company shares are typically subject to transfer restrictions, so EquityZen works with the company to conduct a share transfer from the selling shareholders. EquityZen's platform has facilitated 2,000+ private placement transactions with 70+ premier private companies, ranging from $250M to over $20B in enterprise value.
Private share transfers are securities transactions. As such, compliance with regulations and requisite oversight policies are critical to ensure a safe, trusted platform suitable for all stakeholders: shareholders, investors, and the company. The EquityZen platform conducts transactions through a FINRA regulated, SEC registered, wholly-owned broker-dealer, EquityZen Securities LLC.
EquityZen provided Redfin with a transparent, controlled, easy process to evaluate and approve transactions in an entirely paperless manner. Not only did the platform facilitate pre-IPO investments that honored Redfin's transfer restrictions, it also delivered all transacting parties with the peace of mind that the company was aware, involved, and supportive as company buy-in is vital in transferring share certificates. EquityZen's process involves transfer of shares and does not rely on unproven derivative structures, thus addressing counterparty risk concerns and other liabilities that arise if transacting without the company's explicit approval.
---
The EquityZen Process
(EquityZen's platform has facilitated 2,000+ private placement transactions)
Figure 3.
How Returns Work for Pre-IPO Investors
As with most IPOs, shares acquired pre-IPO are subject to a lock-up agreement, which prohibit pre-IPO shareholders from selling for a period of time (typically at least 180 days). Holders to shares subject to this lock-up must remember their returns are only marks until they can be realized.
Three prices in particular are crucial for private investors:
Purchase Price: at what price did I invest while the company was private?
IPO Open Price: at what price could I have invested if I invested as soon as possible upon IPO?
Lock-up Expiration Price: at what price could I have sold if I chose to sell as soon as permissible?
Current Price ("black" in Figure 2) matters in tracking the performance of the investment, but the earliest the investor could sell is the day the lock-up expires at the then prevailing Lock-up Expiration Price. Shares may rise or fall in value prior to expiration of the lock-up. As the returns in Figure 2 demonstrate, investors who invested at the Purchase Price ("green") experienced a meaningful return over and above the IPO Open Price ("gray") investors.
Those who waited to invest until after the IPO captured at most a healthy, yet much smaller return (32%). Comparatively, the average return seen by the pre-IPO investors is meaningfully greater (115%, over 3x in excess of those of public market investors who continue to hold their shares). Investors who invested in Redfin via EquityZen's platform can already mark up their portfolio to the Current Price. They will receive publicly listed, freely tradable shares once the lock-up expires.
---
Redfin Select Shareholder Ownership at IPO Open Price
(RDFN began trading at $19.56 per share)
Figure 4.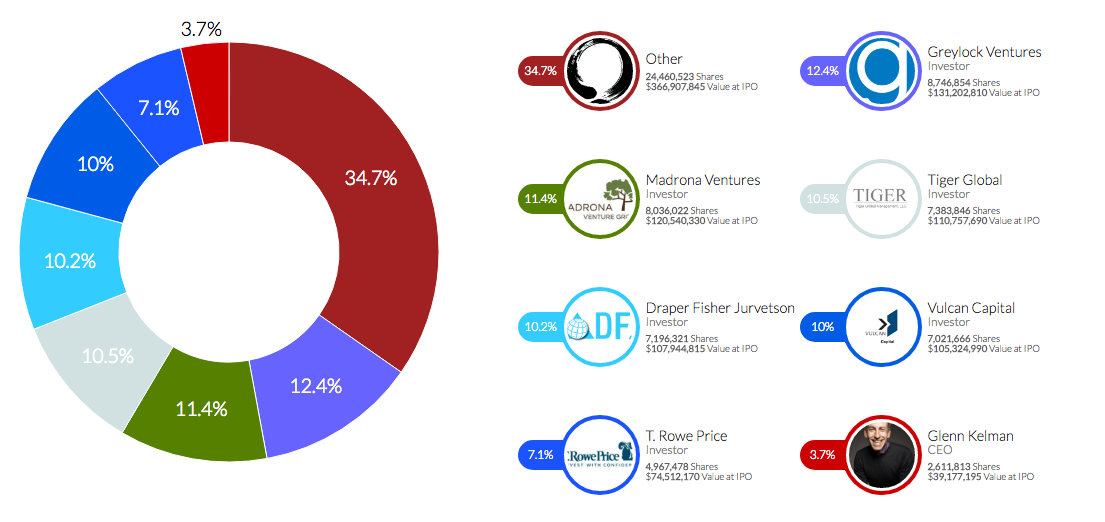 About Redfin (NASDAQ: RDFN)
Based in Seattle, WA, Redfin is a technology-powered real estate brokerage that represents people buying and selling homes. Founded and run by technologists, Redfin has a team of real estate agents who earn a salary and customer-satisfaction bonuses, not commissions. In fiscal year ending July 2016, Redfin boasted $267 million in revenue. Redfin is backed by Madrona Venture Group, Vulcan Capital, Draper Fisher Jurvetson and Greylock Ventures.
Please note: EquityZen is an investor in Redfin.
More here: www.Redfin.com.
About EquityZen
NYC-based EquityZen provides a platform to invest in and sell shares in private companies with company approval, by matching individual and institutional investors seeking investment access with shareholders seeking cash. With 10,000+ accredited investors from 30 countries, EquityZen's platform conducts private placement transactions digitally, and has worked with 1/3 of the largest unicorns. EquityZen's Path to IPO series has further details on Redfin's investor returns and can be found here: equityzen.com/path-to-ipo/redfin/.
More here: equityzen.com.
---
The case study is for illustrative purposes only. Past performance of transactions completed through the EquityZen platform, such as the investments made in Redfin, do not guarantee future results of investments made through the EquityZen platform. Investments made through the EquityZen platform are subject to substantial risk, and are not suitable for all investors. All securities are offered by EquityZen Securities LLC, a registered broker-dealer and member of FINRA.